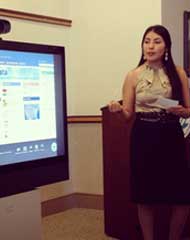 Marquel A. Begay
U.S. EPA/OAR/OAQPS/OID/CTPG
Yá'át'ééh, shí éí Marquel Begay yinishyé. Shí Dine'é nishlí. Tséníjíkiní doon'é nishłįigo. Honágháahnii bashishchiin. Tł'iziłani éí dashicheii dóó Tábąąha éí dashinálí.
My name is Marquel Begay, and I am proud to say that I am Diné (Navajo). I am a member of the Honey-Combed Rock People, born for the One Who Walks Around clan. My maternal grandfather is of the Many Goats People and my paternal grandfather is of the Water Edge People. I am from Black Mesa, Arizona.
For the summer of 2015, I completed an eight-week internship with the U.S. Environmental Protection Agency (EPA), Office of Radiation (OAR) in Research Triangle Park, North Carolina. In particular, I assisted the Community and Tribal Programs Group (CTPG). CTPG focuses on working with tribes, Environmental Justice, and other communities to protect public health and the environment.
For the course of my internship, I conducted the Tribal Air Quality Monitor Study which is designed to identify the various types of air monitor networks operating within or near tribal areas in Indian Country. The study provides a GIS tool that consists of maps and data to further assist EPA in improving tribal air monitoring efforts.
I appreciate NTAA and ITEP for providing me the grand experience to intern with the U.S EPA OAR. Through my internship I gained great insight, worked on interesting projects, visited spectacular places, and created-life-long friendships. The internship has influenced my career path in becoming an environmental leader for my tribe in regards to environmental law, justice, and renewable energy development. I encourage individuals interested in tribal environmental issues to apply to various programs ITEP offers as it will provide an excellent experience for individuals to better understand the relationship between tribes, states, and the federal government, and how to make a difference within tribal communities.