---
EEOP Internships
MEET our INTERNS
If you are a former ITEP intern, please contact ITEP to update your information. ITEP is interested in learning about your current academic and/or career endeavors.

Current interns: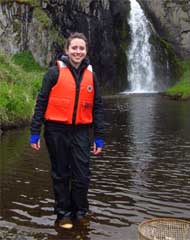 Elise Adams
Qawalangin Tribe of Unalaska
Unalaska, AK
I was privileged to be one of the ITEP interns for the summer of 2017. For my internship I worked with the Qawalangin Tribe on the island of Unalaska, Alaska. My time was split between field work on Unalaska and lab work in Flagstaff, Arizona where I am currently a graduate student at Northern Arizona University in the Biological Sciences Department. I had a wonderful experience as an ITEP intern. This internship made it possible for me to complete the field work portion of my Master's project looking at PCB contamination in the Aleutian/Bering Sea Region of Alaska and distinguishing between local sources of contamination from formerly used defense sites and contamination coming up to the Arctic via global distillation. I loved working closely with the indigenous people of Unalaska on work that has important local and broad implications. It has opened the doors for future opportunities and collaborations. I love to travel and experience new things. I got to have the experience of a lifetime this summer spending time in an area that not many people see and doing things that not many people get to do. The ITEP staff as well as my host site took great care of me and wanted me to succeed. This internship has allowed me to grow both professionally and personally. I'm grateful for the opportunities this internship has provided.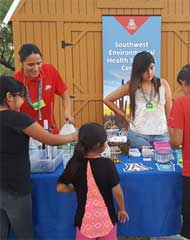 Hailee Brown
University of Arizona, College of Pharmacy, Southwest Environmental Health Sciences Center
Tucson, AZ
Yá'át'ééh! My name is Hailee Brown. I am Navajo and of the Towering House & Many Goats clans. This summer I was an intern through ITEP NAU at the University of Arizona, College of Pharmacy, Southwest Environmental Health Sciences Center (SWEHSC). I had a great experience at SWEHSC as I learned a lot about being a professional, understanding environmental health, and working in Indian Country. Throughout my eight-week internship there was never a dull moment as SWEHSC has many ongoing collaborations and projects. I traveled a lot attending outreach events, meetings, and research sessions throughout Arizona. SWEHSC collaborates directly with tribes as well as indigenous organizations throughout Arizona. Additionally, SWEHSC has strong ties with the Native American organizations on campus. Throughout the summer, I worked on organizing outreach events, planning presentations, and researching data concerning environmental health. SWEHSC recognizes and researches the intersection between indigeneity and environmental science. Some of the topics I focused on this summer included: air quality, asthma, sun-safety, oil spills, toxicology, education, environmental policy, and traditional tribal teachings. The ITEP organization was very supportive and helpful of my work with SWEHSC. I encourage other students to apply for an ITEP internship as they will have very memorable experiences and gain valuable professional skills.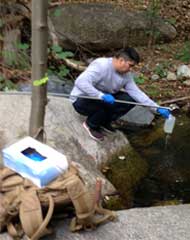 Steven Chischilly Jr.
Pechanga Environmental Department
Temecula, CA
My internship experience was impeccable. Through ITEP I discovered other ascending tribal programs that are committed to the betterment of the natural systems. I extremely enjoyed the ability to move to another location, take up a task I am passionate about and meet other friendly goal oriented people. Experiencing the new location opened up my mind to new possibilities for my career. I got a taste of an employment opportunity that is incredibly viable for me.
The Pechanga Reservation is beautiful and a great bit of serenity nestled just outside of the urban community. The tribe has built itself up to a mighty position. The environmental department is always welcoming and has never failed to include me on important matters that surrounded the air program. Their input and conversations keep you well informed and any uncertainties are quickly sorted out in a friendly fashion.
The biggest takeaway from the Pechanga community is their focus on the youth. I was included in many activities that surrounded solely around the youth. It was very refreshing to see. I would not have traded the experience with ITEP and Pechanga for any other, it was an experience that will definitely leave an impression on me for the rest of my career.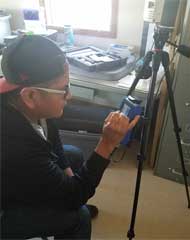 Shaun Hudson
Hopi Environmental Protection Office
Kykotsmovi, AZ
My name is Shaun Hudson. I'm a Navajo from a small community in Tuba City. I am a Graduate Student majoring in Climate Science and Solutions at Northern Arizona University in Flagstaff Arizona. I currently completed an internship with the Hopi Environmental Protection Office in Kykotsmovi which is a small community on the Hopi Reservation. My duties included conducting studies involving environmental health studies with random home sites around the reservation. My study was a collaboration project with the University of Arizona School of Public Health which addresses environmental health disparities (particulate matter, arsenic, and uranium), evaluating environmental risk and water quality (locally and regionally), and observe the potential leakage of uranium and heavy metal waste from local landfills which could impact community health.
I have always been interested in preserving and protecting our natural resources on Native American lands. ITEP has given me the opportunity to expand on my interests working with the Hopi Tribe and allowing myself to progress in a field that I have been interested in since I've entered the environmental science program at NAU. Working with ITEP and the Hopi Tribe has given me the experience necessary to succeed in tribal environmental protection as well as becoming knowledgeable with the procedures in tribal environmental policy. Using the knowledge obtained from my graduate year at Northern Arizona University, I was able to utilize my education and have an impact on the orders and concepts with the Hopi EPA. This internship has given me the confidence to succeed in the ever changing environmental issues surrounding Native American lands.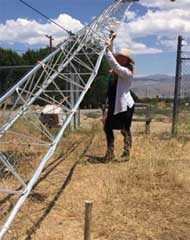 Melanie Rose Keil
Big Pine Paiute Tribe of the Owens Valley
Big Pine, CA
As an intern for the Environmental Department of the Big Pine Paiute Tribe of the Owens Valley, I spent the majority of my time conducting independent online research to develop curriculum for air quality and climate change environmental education outreach activities. I created lesson plans, worksheets, acquired, made, and tested materials for two hands-on, science based educational activities which I presented to tribal youth attending a summer session at the Tribal Education Center. My other major activity was planning and implementing a one-day field trip seminar designed to further tribal knowledge of local climate change vulnerabilities, mitigation, adaptation, and survival strategies. Additionally, on the technical side of things, I helped set up, take down and perform regular maintenance on the Tribe's Emergency Beta Attenuation Monitor. I also helped to take down a meteorological station tower for troubleshooting and helped with the installation and set-up of a webcam that will eventually be used for live stream monitoring of air quality on the reservation. The internship gave me an idea of what working for a Tribal Department is like on daily basis and also provided me an opportunity to improve my interpersonal relationship skills and self-direction especially concerning time management and public speaking skills.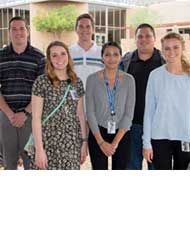 Natalie Shaw
Central Arizona Project
Phoenix, AZ
During my time as an intern at the Central Arizona Project (CAP) in Phoenix, Arizona I had various opportunities to apply my knowledge, in addition to opportunities to further expand it. As a soon-to-be graduate student, this had been especially beneficial to my growth as student and professional within the field of environmental science and policy. Throughout my internship, I was able to network with other Native American professionals in addition to non-native professionals that work in various fields of work. Some of my work focused on water availability to Tribes with claims to Colorado River water and the consideration of various scenarios of water use and their impacts to water users of this important body of water. I worked with some amazing people who mentored me during my internship and I hope to remain in contact with. Unlike a classroom setting, where learning is mainly based off of textbook and lecture learning, an internship teaches you through experience, experience that you can carry with you to future careers or internships. You also aren't limited to work on one topic, and you get the chance to branch out and learn from other different topics. During my internship, I not only worked on a scenario analysis project, but I also had a chance to visit a pumping plant, attend the Arizona Indian Chamber of Commerce luncheon, visit several tribal communities in the greater Phoenix area, not to mention the many opportunities for free food which is always appreciated by a college student!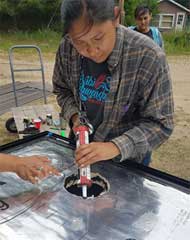 Sherralyn Sneezer
Honor the Earth
Callaway, MN
Hello, my name is Sherralyn Sneezer, and I am Navajo from Shonto, AZ. I am attending Dartmouth College, majoring in Environmental Studies. My ITEP internship experience was very important, helping me grow immensely. I had the opportunity to work at Honor the Earth this summer, and it was experience I will not forget. Renewable energy, especially solar, has been one of main interests for quite some time, because I would like to help the Navajo Nation transition to more renewable energy. However, I was unsure how or where I would get my start in renewable energy. I became aware of the Environmental Education Outreach Program (EEOP) and found this internship program.
Arriving at Winona's house, I was not sure what to expect or what exactly my job would be. For the first few days, I was eager to get started installing solar panels and get hands-on experience with solar. I kept hearing about all the amazing solar projects Honor the Earth was working on: installing solar PV at the local school, manufacturing solar panel furnaces (SPFs), installing solar panel furnaces on homes, and a solar panel furnace installation training for 30 women. However, I still was not sure where I should focus my time. Pam, Special Projects and Events Coordinator, started me off on researching solar panel furnaces and the DEED (Department of Employment and Economic Development) Grant. My task was to help coordinate the SPF training for 30 native women from Pine Point and Leech Lake Reservation. I made flyers and posted them around town, hoping to find any women interested in solar. Even though I was an intern, I took the lead on coordinating this training with Pam. It was such a rewarding experience coordinating the training, and learning how to install SPFs at the same time. I learned important lessons and skills coordinating this training that I could not learn at school. It was slightly stressful, but I enjoyed working with the women. In addition, I met many people who could help me in the future, like people from Rural Renewable Energy Alliance (RREAL). I felt empowered, realizing that I could do a similar training on the Navajo Reservation. This internship has allowed me to see the potential in my community, and work toward change, allowing people to learn new skills and potentially create jobs. I am thankful for my experience for this summer working as an ITEP intern, because I have learned more about what I would like to do in my community. I would love to continue working with ITEP for future projects. Thank you.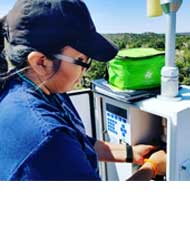 Cydney Walters
Navajo Nation EPA Air Quality Control Program
Fort Defiance, AZ
Shi ei Cydney Walters yinishe. Kinyaa'anii nishli doo Tsinjikini bashishchiin. Bii' Bitonii ei da shi cheii doo Totsohnii ei da shinali. A'koteego Dine' adzaan nishli. I am graduating from the University of Arizona in the spring of 2018, and spent summer 2016 in Washington DC doing an internship in the Geosciences Earth Sciences Department at the National Science Foundation in Arlington, VA. When making that transition from NSF to the Navajo Nation EPA in the Air Quality Control Program has been the most memorable and amazing experience, I have had. As an intern at NNEPA, I was able to travel to each of the monitoring sites, one in AZ and one in NM. I learned about how our air monitors work and how to calibrate and troubleshoot problems with the staff. I am a technician and I love to work with my hands and being able to work with the air monitoring systems was remarkable. I also got to take part in multiple outreach events in local communities at health and career fairs where I spoke to community members about the program and information we have on Open Burn. My main task for the entire summer was to create an outreach video addressing Open Burn, which is the burning of any household waste on the Navajo Nation and the issues caused by Open Burn, that covered topics from health effects to exempt activities. To anyone of you considering ITEP, or any other internship, I would strongly encourage them to take advantage of the opportunity. I learned a lot about the programs but myself as well. The opportunities are there and take advantage of it, it will take you far in life. I will continue to pursue environmental work and I hope to continue to work for the Navajo Nation and the community. I couldn't have asked for a more amazing experience here at the Navajo Nation Air Quality Control Program. I couldn't be anymore grateful and happy with this experience. A'xhee', ITEP for this amazing opportunity.
Previous interns:
For more information, please contact:
Mansel Nelson
928-523-1275
Mansel.Nelson@nau.edu
---