Internships
Environmental Education Outreach Program
PO Box 5768
Flagstaff, AZ 86011
Phone: 928-523-1275
Fax: 928-523-1280
---
EEOP Internships
MEET our INTERNS
If you are a former ITEP intern, please contact ITEP to update your information. ITEP is interested in learning about your current academic and/or career endeavors.

Current interns: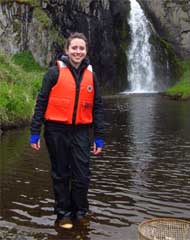 Elise Adams
June 1st is the start of my internship with time split between the island of Unalaska, Alaska and Flagstaff, Arizona.
I have lived in Anchorage, Alaska almost all my life. I am currently a graduate student at Northern Arizona University and am excited to do my research and field work in my home state. I am the youngest of 4 kids and have always been close to my family. I love to travel, hike and do outdoor activities. I also love to figure skate, rock climb, cook and spend time with my family and friends.
Before starting graduate school I worked at the Alaska Zoo for several years, part of that time as a zookeeper. It was hard work but fun and rewarding!
I knew I wanted to work in science and conservation since 7th grade when I did a project about Rachel Carson and her work. I want to make a positive difference in the world through both my work and personal life.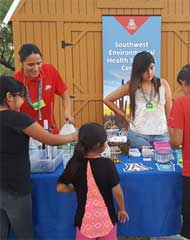 Hailee Brown
Ya'at'ee! My name is Hailee Brown. I am Navajo & of the Towering House, Many Goats and Caucasian clans.
I attend Dartmouth College and am pursuing a double major in Anthropology and Native American Studies modified with Environmental Science.
I enjoy hiking, baking, photography and reading.
My family lives in Phoenix, Arizona but is originally from Coppermine, Arizona.
I am interning at The University of Arizona, College of Pharmacy, Southwest Environmental Health Sciences Center in Tucson, Arizona from June 5 to July 28.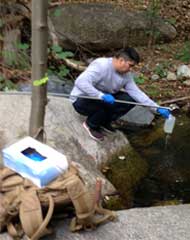 Steven Chischilly Jr. yinishye' To'heedliini nishli, Na'toh Dine'e Bashichiin
Hello, My name is Steven Chischilly Jr. I'm of Water Flows Together clan and born for Tobacco People. I have a Bachelor's Degree in Environmental Studies from Fort Lewis College. I love to do outdoors oriented activities such as fishing, mountain biking and exploring Dinetah (Navajo Nation). I am working for the Pechanga Indian Tribe in Temecula CA. I started working on June 5, 2017 and I am loving it. Thank you ITEP for all your help and support.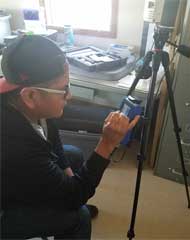 Shaun Hudson
Education: Master's student in the Climate Science and Solutions Program at Northern Arizona University
Hobbies: I enjoy outdoor activites (camping, hiking, fishing). I enjoy traveling and seeing new places. When i have time I enjoy training horses and learning from them.
My internship is located on the Hopi Reservation in northern Arizona in the small community of Kykotsomovi.
I started my internship on May 30, 2017 and excited to learn more and the knowledge that i have learned throughtout my first year as a Grad Student.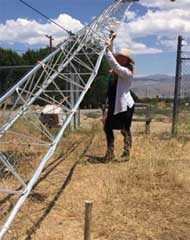 Melanie Rose Keil
June 12th at Big Pine Paiute Tribe, Big Pine, Ca.
Education:
Summer 2017 Graduate: BS Environmental Health and Radiological Sciences: Colorado State University
Associate of Science: Front Range Community College
Hobbies:
Gardening, cooking
Making herbal medicines
Writing, reading
Photography, painting
Slow hiking!
Working for social, racial and environmental justice
Family:
Oldest of six siblings
Mother of one beautiful daughter
8th generation American on paternal side
Haudenosaunee on maternal side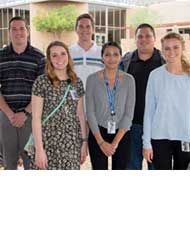 Natalie Shaw
My name is Natalie Shaw and I am 3rd year ITEP-EEOP intern, this year I will be interning with the Central Arizona Project in Phoenix, Arizona staring on June 12.
Some things about me:
I'm a recent graduate from the University of Redlands in Redlands, California.
In the fall, I'll be attending NAU in the Masters program for Environmental Policy and Science.
I have 3 sisters, and many nieces and nephews.
Hobbies:
Hiking
Off-roading
Dancing (I'm a jingle dress dancer but I love all styles of dance.)
Going to concerts (I love underground and old-school Hip-hop and country...I know a weird combo huh.)
Watching and playing basketball (Lakers fan for life.)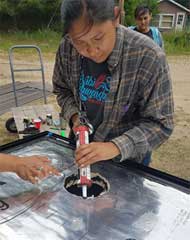 Sherralyn Sneezer (Sherry)
Hello I am from Shonto, AZ, and I'm Navajo and San Carlos Apache. I went to high school at Monument Valley in Kayenta, AZ. I am a sophomore tending Dartmouth College.
My Grandparents are Rose Marie Grass and Jones Grass & Ann Sneezer and Collier Sneezer.
I am an Environmental Studies major.
I enjoy playing volleyball, eating, and reading.
I am a Gates Millennium Scholar.
The host site I will be working at Honor The Earth in Callaway, MN. I will be starting on June 12th.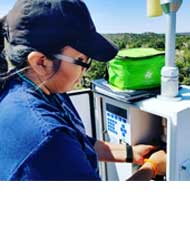 Cydney K. walters
Navajo Nation Environmental Protection Agency Air Quality Control Program Intern.
Senior at University of Arizona.
Studying Environmental Science and Electrical Computer Engineering.
I live in Navajo, Az but my family is orginally from Coalmine, Az.
I love to hike, camp and fish. I love spending time with my family and friends.
I am a very talkative person and I love to laugh.
One interesting fact about me is that I did hurdles for 7 years.
I graduated from Holbrook High School.
I am the current reining 2016-2017 Miss Native American University of Arizona.
Previous interns:
For more information, please contact:
Mansel Nelson
928-523-1275
Mansel.Nelson@nau.edu
---