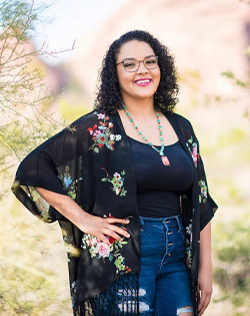 Ayden Clytus
EPA Climate Science and Impacts Branch
Washington DC (Virtual)
The saying that "time fly's by when you're having fun" could not have been more applicable to my summer experience. Within a span of 8 weeks, I had lots of fun and I grew so much as a person. I got to learn about numerous opportunities and concepts this summer that I had no idea were possibilities. When I first saw the ITEP summer intern program I did not think it was for me, a Justice Studies major whose world revolved around policy, law, and justice for others. However, my world also focused on the health of the Earth and our communities. I was stuck trying to understand how to combine the two. I have always had a respect for the land, what it gives to us, and what it teaches us. This comes from traditional values taught to me by my mother and grandmother. These values keep me grounded and have guided my path through education and my search for a future career. So, with encouragement from both parents, I decided to just apply for the summer internship and see where that went.
In the end I applied to four host sites, got two interviews, and one acceptance from EPA's Climate Science and Impacts Branch. I was so excited but intimidated at the same time. I had this perception that EPA was full of scientists who just took samples and analyzed them, which some do, but this was not what the people I worked with did on a daily. I was also worried that since it was a federal government agency that they would be very strict and slightly unapproachable, and I wanted to make sure I impressed somehow. This was the complete opposite of the people I worked with. They were friendly, understanding, everything you would hope for in a colleague and I was beyond grateful for that. Rather than take samples and create reports, I read those journals and reports to understand climate change and how it would affect health, economy, and infrastructure for example. I was given three tasks; 1) build a CASTNET tribal program partners page for the EPA website, 2) Research climate change's effects on the Arctic, which included the impacts on the health of Alaskans, Indigenous peoples, and economic impacts, and 3) write a paper on climate change nationally, its impact on water, and how that will ultimately impact children's health and Indigenous people within the United States. In addition to my three projects, my three project leads introduced me to many different people who worked in areas I was interested in. Those areas of interest were water, law, how tribes and the federal government work together, and environmental justice. I met with people who handle climate policy, an environmental justice attorney, a woman who works on safe drinking water in EPA and has an interest in environmental justice work, and much more. Each of these individuals offered me different knowledge and advice for future work or paths I could take. Each of the meetings I had were enlightening in some way. I learned so much from the projects I worked on and the people I met whilst at EPA.
All in all, I would highly recommend considering an ITEP summer internship. Even if you feel like maybe you will not fit in with the host sites, like me, you would be surprised just how much you do fit in. This internship taught me so much and I met great people. You might just find the career that works for you. For a long time, I was trying to figure out how I could make a Justice Studies degree work in favor of my passion for a better environment and working with EPA showed me where my place could be. It reassured me that I was on the right path, and I have grown tremendously in only two months. So, if you are even considering applying for an ITEP internship, I say go for it, you never know where you will end up.