---
EEOP Internships
Meet our Interns and Learn about their Internships

If you are a former ITEP intern, please contact ITEP to update your information. ITEP is interested in learning about your current academic and/or career endeavors.

2010 Summer Intern: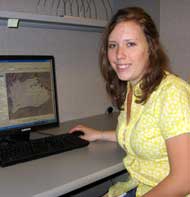 Emily Backes
Since her internship, Emily graduated from the University of Wisconsin in Stevens Point with a degree in Land Use Planning. Emily interned at the Yakama Tribe & Tribal Air Program in Seattle, Washington. Emily developed a mapping tool that contained all the known sources of air pollution on the Yakama Nation. The tool shows where the air pollution sources are located and how they are influencing the airshed under varying conditions. This tool will be used to help better understand which areas are being impacted most by air pollutants. Emily said, "Over these ten weeks I have gained a lot of valuable professional and life experiences that will allow me to be prepared for my future career, which in that I believe is an accomplishment."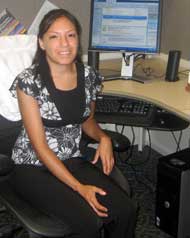 Virginia Blue-Ramirez
Since her internship, Virginia graduated from the University of New Mexico with a graduate degree in Public Health. Virginia interned at the U.S. EPA OAR/OAQPS Office in Research Triangle Park, North Carolina. Virginia assisted with the Sustainability for the Seventh Generation Initiative. The purpose of this initiative is to help Tribal communities reduce their emissions and promote sustainability with the goal of cleaner and healthier air. Virginia developed educational materials and conducted outreach to tribes to disseminate information on voluntary actions, such as the use of dripless gasoline nozzles, to reduce emissions, improve ambient air quality and promote environmental sustainability.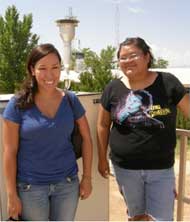 Justine Chaco (right) during her internship with the Navajo Nation EPA.
Justine Chaco
Navajo Nation EPA Air Quality Program in Ft. Defiance, AZ

Justine's internship focused on assisting with the Navajo Nation Air Quality projects.

When asked about her internship, Justine said, "This internship has been a great experience for me. I am currently a senior in Environmental Engineering, and I really felt that this internship put a lot of my knowledge to the test. I studied for hours and hours on end in school and there were times I felt like school was too tough and I did not want to continue. But through this invaluable experience, I have come to realize that all of these hours of hard work really paid off once I am in the workforce. I was expected to know how to work equations, write technical papers, and work with people."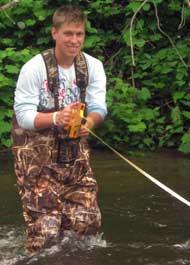 Jason Marmon
Since his internship, Jason graduated from Northern Arizona University with a degree in Environmental Sciences. Jason interned with the Little Traverse Bay Bands of Odawa Indians in Harbor Springs, Michigan. Jason assisted the Air Quality Specialist with quality assured sampling of PM2.5, which included the shipping of PM2.5 filters to/from the TAMS Center for analysis and data entry/organization responsibilities. Jason assisted with monthly PM2.5 monitor audits. Jason assisted the Air Quality Specialist with the review of data from regional ozone monitoring projects; and reviewed EPA and Michigan Department of Environmental Quality (MDEQ) standards and proposed rules for ozone. Jason also researched National Ambient Air Quality Standards (NAAQS) for ozone.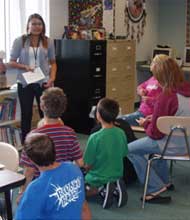 Joy Tso (standing) presenting on air quality issues to a group of students.
Joy Tso
Nez Perce Tribe Air Quality in Lapwai, ID

Joy's internship focused on disseminating information on air quality to the youth and adults on the Nez Perce Reservation. Her internship objectives were to produce presentations and outreach materials for youth and adults, learn about FARR and burn permitting, and gain experience related to operating an ambient air monitoring network.

When asked about her internship, Joy said, "My overall experience was amazingly great. I learned so much about air and I now know that being educated about air is really essential. Air pollution is everywhere, including small communities such as Native American reservations. Air pollution is very hazardous for our health and the environment. Educating about the air is not only important, but it is also very hard because everyone takes air for granted and they think it is unlimited or that air pollution does not affect them. Being a part of this internship has really opened my eyes to all the negative impacts that are affecting our health and environment with each new day. Being educated about the environment has also helped me reflect on my ways of living and also helped me find new ways of living that will not affect the environment."
Shannon Deasy
Since her internship, Shannon graduated from the University of Michigan with a degree in Environmental Sciences. Shannon interned at the Inter-Tribal Council of Michigan Environmental Services Division in Saulte Ste Marie, Michigan. Shannon assisted with monitoring the ambient air quality on and near the Tribal Reservations to compare to the NAAQS. Shannon assisted the MITC Air specialist with the day to day operation of the three ambient air sites. Shannon helped with the energy capacity project by assisting the coordinator with the alternate energy workshops. In her own words, Shannon said, &I am very grateful that I had the opportunity to work for the Inter-Tribal Council. I can't think of a more worthwhile way to have spent ten weeks of my summer term away from school. What I've learned from actually working on issues that I care about builds upon what I study in school, but is also many times more valuable than anything I have studied in a classroom setting."
Cristina Maddux-Gonzalez
Since her internship, Cristina graduated from Northern Arizona University with a graduate degree in Environmental Science and Policy. She is currently employed with the Institute for Tribal Environmental Professionals. Cristina interned at the U.S. Geological Survey Central Regional Energy Service Center in Denver, Colorado. During her internship, Cristina assisted Margaret Hiza with analyzing data from completed dust samples. Cristina also assisted with dust sampling through the placement and collection of any additional dust traps on the Navajo Nation. Cristina assisted other staff in the field that placed and collected the dust traps. Cristina assisted the Denver scientists with submitting the selected samples for elemental analyses (including sample preparation) and laboratory leaching to determine solubility and bioavailability. When asked if she would recommend the internship to other students, Cristina said, "The USGS staff scientists can offer students a wealth of information on a diverse range of topics. Indeed, during my internship I was able to meet and speak with the foremost authorities on the topic that I am investigating for my thesis. An additional benefit of working with the USGS, is that as an agency with highly rigorous scientific standards, the USGS promotes the use of replicable, defensible scientific analysis among its student mentees."
Simeon Haynes
Simeon is an undergraduate student at Humboldt State University in Environmental Engineering. Simeon interned with the Southern Ute Air Quality Program in Ignacio, Colorado. Simeon assisted with the Air Monitoring Program. Simeon developed and presented air quality outreach and educational materials. Simeon assisted with updating and importing major and minor source information into the Tribal database. When asked about his internship, Simeon said, "This internship has given me great insight and understanding of what it would be like to work in an air quality career. Not only has this internship familiarize me with the different types of instruments used to monitor the air quality, but also taught me about EPA's standards for criteria pollutants and what is considered to be unhealthy air conditions. The experience I gained and the connections I have established will surely give me a "leg up" when I graduate and looking for job opportunities."
For more information, please contact:
Mansel Nelson
928-523-1275
Mansel.Nelson@nau.edu
---