---
EEOP Internships
Meet our Interns and Learn about their Internships

If you are a former ITEP intern, please contact ITEP to update your information. ITEP is interested in learning about your current academic and/or career endeavors.

2011 Summer Interns: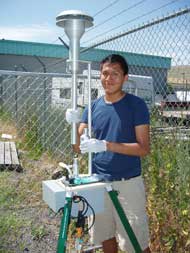 John Begay
John is an undergraduate student in Environmental Science – Applied Geology at Northern Arizona University. John interned at the Nez Perce Environmental Restoration and Waste Management Air Quality (ERWM) Program in Lapwai, Idaho. John interned at the Nez Perce Tribe ERWM Air Quality Program in developing and disseminating air quality outreach and educational materials to youth and adults on the Nez Perce Reservation. John (1) developed presentations and activities for youth, (2) developed presentations and outreach materials for adults, (3) learned about the Nez Perce Tribe's climate change and energy activities, (4) learned about FARR smoke management and burn permitting, and (5) gained experience related to operating an ambient air monitoring network.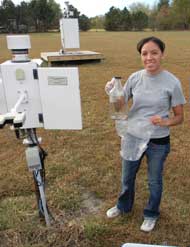 Virginia Blue - Ramirez
Since her internship, Virginia graduated from the University of New Mexico with a graduate degree in Public Health. Virginia interned at the Sac & Fox Nation of Missouri Environmental Department in Reserve, Kansas. Virginia assisted with the collection, compilation and entry of data for the 2011 emissions inventory. Virginia assisted with the design and development of outreach materials for the air quality program. Virginia assisted with ambient air quality monitoring. In her own words, Virginia said, "I learned a lot about each department and about the Sac and Fox Nation of Missouri in Kansas and Nebraska. Every week was a learning experience and everybody was great to work with."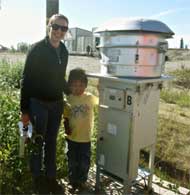 Mali'o Kodis
Department of Environmental Conservation in Anchorage, AK

Mali'o's internship focused on monitoring road dust before and after the application of dust suppressants.

When asked about her internship, Mali'o said, "By working in the Air Quality Monitoring office for 10 weeks, I have gained knowledge about the way the state monitors air quality, and of the different regulations in place to ensure that the data collected is consistent, reliable, and unbiased. Air monitoring requires a deep knowledge about chemistry and physics, as well as technology, computer data analysis programs, construction and mechanics, and statistics. The work that is done by only approximately ten people in the Air Monitoring departments both here in Anchorage and in Juneau is work that is critical to thousands and thousands of individuals statewide. The efforts of this team are omnipresent in almost everyone in the state's lives, but this work is largely behind the scenes and nearly invisible to the common citizen.

Having had experience in environmental conservation, I was aware that the state government had staff in place to maintain a healthy living environment for citizens, but have only this summer become acutely aware of the extent of positive influence that this sort of work has on so many people."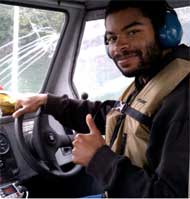 Simeon Haynes during his internship in Cordova, Alaska.
Simeon Haynes
Native Village of Eyak in Cordova, AK

Simeon's internship focused on increase awareness of burnable materials. The city of Cordova currently operates a burn pit. This burn pit is used by local residents to burn waste wood and other burnable materials. The burn pit operates 24 hours a day 7 days a week. The amount of burnable materials is highest during summer months when the population of Cordova doubles due to the fishing season. A recent survey of the burn pile showed that roughly 68% of all items being burned are wood or other burnable materials while 32% was not burnable (plastic, styrofoam). The burn pile is currently producing a significant amount of toxic fumes due to the burning of plastic and other non-burnable materials. Cordova could reduce the amount of air pollution emitted from the burn pile by educating the community on the negative effects of burning plastic.

When asked about his internship, Simeon said, "This internship with the Native Village of Eyak (NVE) has been a life changing one. I have learned a great deal of information about the different types of renewable energies such as air power, biomass and even diesel fuel from melted plastic that could be used to power a community. I also learned about conducting research, gathering data and composing it all into a presentable piece of work. I experienced the work that is required to conduct a research project and I loved it! This project was way more exciting to work on than the pretend projects they give us in my college classes. At the end of each day I spent working on that project I knew I was helping out community with its energy and environmental problem and by doing this I felt it was much more satisfying than an "A" on a class project."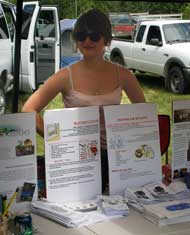 Dana Krementz during an outreach activity.
Dana Krementz
Sault Tribe of Chippewa Indian's Environmental Department in Sault Sainte Marie, MI

The internship focused on promoting the use of air sealing to reduce energy consumption in homes owned by tribal members. Dana worked with local utilities to help promote their demand-reduction programs, including distribution of free or low-cost air sealing products if available, and she developed outreach materials.

When asked about her internship, Dana said, "I had a really cool job working for the Sault Tribe of Chippewa Indian's Environmental Department in Sault Sainte Marie Michigan on Indoor Air Quality Outreach. Only one year into my college career I managed to find something I thought would take a lifetime to discover; a job that truly combined the three aspects I wanted to work with. I got to spend my summer conveying to people how environmental factors affected their health and simple measures they could take to improve their lives and the lives of their families while maybe even saving money on their energy bills in the process! During my time in Sault Sainte Marie Michigan I was able to refine my ability to research and condense large amounts of information into short concise messages, I was given the opportunity to share this important information with Sault Tribe members at various powwows and safety fairs, but above all I had the ability to learn valuable skills that I will be able to use for the rest of life. Working for ITEP allowed me to gain first hand experience working in a professional tribal environment as well as allowing me to truly apply the knowledge and skills I have gained throughout my schooling. I felt this internship was the first time I was able to research an issue of concern, dedicate myself to a solution, and utilize the resources around me in order to address these concerns to the best of my ability. Spending my summer working for the Sault Tribe of Chippewa Indian's Environmental Department was more than just a summer job; it was my gateway into the professional world."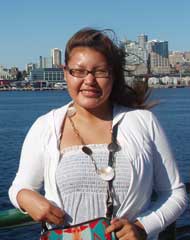 Joy Tso
Joy was an undergraduate student at Northern Arizona University in Speech-Language Pathology and Environmental Sciences. Joy interned at the ITEP TAMS Center in Las Vegas, Nevada. Joy updated an air quality course. The course is designed to help teach tribal air quality programs on how to manage air monitoring data including criteria pollutants. Joy edited the content then reformatted the course for compatibility with a new delivery system. Joy also assisted with various tasks in the radon and gravimetric lab. When asked whether she would recommend the internship to other students, Joy said, "This organization was very welcoming and helpful from the start of the internship and continued throughout the internship. Every person I worked with always made it a fun-filled and learning enriched environment. When I needed any help, I felt very comfortable in seeking help. As for communication, the lines were always open for questions and comments. These are essential aspects for a successful internship."
Brian Cunningham
Since his internship, Brian graduated from the University of Oklahoma with a degree in Liberal Studies. Brian is currently a graduate student at the University of Arizona majoring in Environmental Sciences. Brian interned at the Air Permits Office, U.S. EPA, Region 9 in San Francisco, California. During his internship, Brian supported 1) a significant rulemaking action that will propose whether new air pollution controls should be required on a coal-fired power plant located on the Navajo Nation and 2) the implementation of a new Clean Air Act permitting program in Indian Country, known as the Tribal New Source Review (NSR) Rule. Brian worked to facilitate public involvement and outreach for permitting and rulemaking actions, and worked to develop rule implementation materials.
Marilyn Nelson
Marilyn is a graduate student at Northern Arizona University in Public Management. Marilyn interned at the Navajo Nation Air Quality Control/Operating Permit Program in Ft. Defiance, Arizona. Marilyn assisted with the Navajo Nation Emission Inventory (NNEI) project. Marilyn reviewed the point source emission inventory and updated the Navajo Nation area source estimates. Marilyn participated in compliance evaluation inspections at Title V facilities and reviewed inspection reports, organized files and updated the database. Marilyn collected and analyzed air monitoring data. Marilyn developed outreach materials for public meetings and schools. Marilyn said, "The overall internship has enhanced my knowledge of air quality issues, and how it is regulated. I understand the importance of air monitoring on the Navajo Nation. I feel that this internship has increased my understanding about air quality."
For more information, please contact:
Mansel Nelson
928-523-1275
Mansel.Nelson@nau.edu
---