---
EEOP Internships
Meet our Interns and Learn about their Internships

If you are a former ITEP intern, please contact ITEP to update your information. ITEP is interested in learning about your current academic and/or career endeavors.

2012 Summer Interns: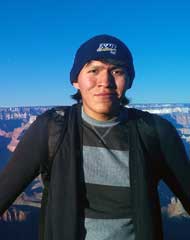 John Begay
John is an undergraduate student in Environmental Science – Applied Geology at Northern Arizona University. John interned at the Navajo Nation Water Management Program in Ft. Defiance, Arizona. John assisted with a project that aims to create a climate change adaptation plan for the Navajo Nation and lay groundwork for implementation of an adaptation project on a pilot scale. John assisted in developing an adaptation plan with the following information: 1) information on the challenges climate change will pose to community security; 2) data and resources necessary for adaptation planning; and 3) assistance in defining what strategies will be effective based on the scientific information available.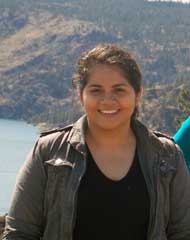 Leticia Delgado
Leticia is an undergraduate student in Environmental Engineering at Northern Arizona University. Leticia interned at the U.S. Environmental Protection Agency (EPA) Region 10 Office in Seattle, Washington. Leticia assisted with tribal clean burning outreach and education and research. The tasks included the distribution of outreach materials; research current levels of woodstove use on Reservations in ID, OR, and WA; adapt education and outreach materials for use in Alaska (in coordination with AK Healthy Homes workgroup); and assist in developing a webinar for Tribes in Region 10 on clean burning. In her own words, Leticia said, "I think EPA is a great place to work and even though they mostly work from the Seattle office, they collaborate with other agencies and individuals to get problems resolved and are very good at connecting people with the resources they need. In the future, I'd prefer to work for a Tribe's Air Program in order to have a more hands-on role and get to work with the community."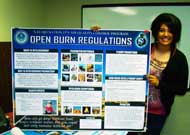 Autumn Harry
Autumn is an undergraduate student in Biology at the University of Nevada – Reno. Autumn interned at the Navajo Nation Air Quality Control Program in Ft. Defiance, Arizona. Autumn assisted with the Navajo Nation Emission Inventory (NNEI) project. Autumn reviewed the point source emission inventory and updated the Navajo Nation area source estimates. Autumn participated in compliance evaluation inspections at Title V facilities and reviewed inspection reports, organized files and updated the database. Autumn collected and analyzed air monitoring data. Autumn developed outreach materials for public meetings and schools. In her own words, Autumn said, "I've really enjoyed my time here on the Navajo Nation. I have enjoyed every single task that has been assigned to me and this internship has influenced my decision of going into the environmental science field."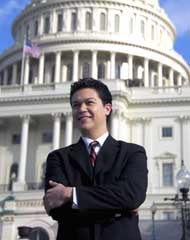 Thomas Jones
Thomas is a graduate student in Natural Resources Studies & American Indian Studies at the University of Arizona. Thomas interned at the U.S. EPA Region 9 Office in San Francisco, California. Thomas supported 1) a significant rulemaking action that will propose whether new air pollution controls should be required on a coal-fired power plant located on the Navajo Nation and 2) the implementation of a new Clean Air Act permitting program in Indian Country, known as the Tribal New Source Review (NSR) Rule. Thomas worked to facilitate public involvement and outreach for permitting and rulemaking actions, and worked to develop rule implementation materials.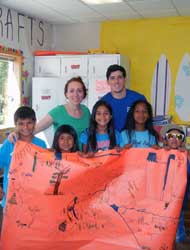 J. Malcolm Mossman
Malcolm is an undergraduate Student in American Studies & Sustainability at the University of Notre Dame. Malcolm interned at the Nez Perce Tribe Environmental Restoration and Waste Management (ERWM) Air Quality Program in Lapwai, Idaho. Malcolm assisted the Nez Perce Tribe ERWM Air Quality Program in developing and disseminating air quality outreach and educational materials to youth and adults on the Nez Perce Reservation. Malcolm (1) developed presentations and activities for youth, (2) developed presentations and outreach materials for adults, (3) learned about the Nez Perce Tribe's climate change and energy activities, (4) learned about FARR smoke management and burn permitting, and (5) gained experience related to operating an ambient air monitoring network. In his own words, Malcolm said, "This internship has been a wonderful experience. I also learned plenty about the EPA and the assessments, measurements and federal laws that come along with running an air quality program for a certain region. Amongst all that, I gained fuller responsibility and received a crash course on how to organize outreach programs. My human relations skills were only strengthened by this and confidence in my ability to teach others about our environment grew."
Eric Latendresse
Eric is an undergraduate student in Environmental Studies at the University of Colorado – Boulder. Eric interned at the Southern Ute Tribe's Air Quality Program in Ignacio, Colorado. Eric assisted the Southern Ute Indian Tribe (Tribe) Environmental Programs Division with their air quality and water quality projects. Eric assisted the Tribe's Air Quality Program (AQP) monitoring staff with weekly checks, periodic verifications, and calibrations of air monitoring equipment located at two air monitoring stations on the Southern Ute Indian Reservation. Eric assisted with updating Title V source information permitting database and filing permitting correspondence. Eric periodically assisted the Water Quality Program (WQP) staff with the collection of baseline water quality field data for §106 program sampling efforts. Eric periodically assisted the §319 program with the monitoring and maintenance of stream restoration projects and implemented agricultural best management practices. At the conclusion of his internship, Eric said, "The work that was given to me was very interesting and relevant to my studies. I was given work that was directly related to tribal policy. I gained so much knowledge about how the Clean Air Act and Tribal New Source Review influence the decisions that are made and allowed in Indian Country."
Darick Melvin
Darick is an undergraduate student in Environmental Studies at Northern Arizona University. Darick interned at the Salt River Pima Maricopa Indian Community (SRPMIC) in Scottsdale, Arizona. Darick assisted the SRPMIC's Environmental Protection and Natural Resources Division in developing a comprehensive air quality shed understanding including air quality pollution levels, past/future air trends, air pollutants origin, and what actions the community can implement to mitigate the current air quality issues. Darick also assisted with collecting air quality monitoring data and community outreach.
Hayley Moen
Hayley is an undergraduate student in Environmental Engineering at Oregon State University. Hayley interned at the Sault Ste. Marie Tribe of Chippewa Indians Environmental Department in Ste Marie, Michigan. Hayley assisted in interpreting air quality monitoring results, wrote articles for submission to the Sault Tribe newspaper, and helped develop and conduct a community workshop to promote awareness of this critical issue among tribal members.
For more information, please contact:
Mansel Nelson
928-523-1275
Mansel.Nelson@nau.edu
---