---
EEOP Internships
Meet our Interns and Learn about their Internships

If you are a former ITEP intern, please contact ITEP to update your information. ITEP is interested in learning about your current academic and/or career endeavors.

2013 Summer Interns: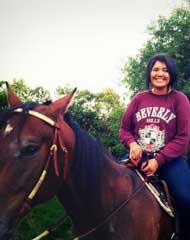 Autumn Harry
Honor the Earth
Callaway, MN
This past summer I completed a 10-week internship on the White Earth Reservation located in Minnesota working for native led environmental organization, Honor the Earth. I spent my time researching several environmental issues such as fracking, coal extraction, mining, and tar sands pipelines. Much of my work was dedicated to understanding how tribes are being affected by these issues on both the cultural and environmental level. Some of my completed tasks include providing awareness, creating billboards, and presenting facts. I am about to start my fourth year at the University of Nevada, Reno where I will continue to pursue my environmental education.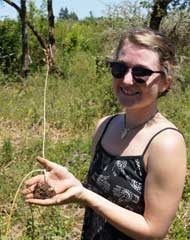 Dana Krementz
Wisdom of the Elders, Inc.
Portland, OR
Thanks to the Inter-Tribal Environmental Professionals' Summer Internship Program I was honored with the ability to spend the summer before my senior year at Northern Arizona University working for a Native American non-profit called Wisdom of the Elders in Portland, Oregon. For ten weeks I learned about Pacific Northwest Indigenous culture, gained experience in working in the field non-profits, and turning grants into reality. Like any internship, my projects and tasks around Wisdom of the Elders covered a vast and diverse range, spanning from facilitating community fundraisers, planning professional development trainings, and assisting in logistical development of oral history recordings throughout Alaskan Native communities. However, my personal project and greatest source of accomplishment came from my development and implementation of a four week summer field science camp for low income Native and non-Native youth. Teaching topics of environmental degradation and climate change through an Indigenous cultural lens, this project acted as synthesis of western and traditional ecological knowledge. By incorporating measurable scientific climate change data, oral history and storytelling from local Native elders, and combining hands on, interactive lessons with multimedia education, this camp aimed to present global topics in a relatable way that not only informs youth on their relationship to an environment in need but facilitates their future engagement with STEM (science, technology, engineering, and mathematics) fields. Yet, more than I come away from this summer with a laundry list of accomplishments and insights, I come away with real world skills that will not only guide my educational and career pursuits but strengthen my ability to positively influence the world around me. Although my time working for Wisdom of the Elders was limited, the experiences I gained throughout the summer will stay with me for the rest of my life.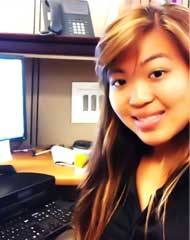 Chanbopha Amy Sen
US EPA Region 9
San Francisco, AZ
This summer I interned at the US EPA Region 9 office in San Francisco, CA. The internship was designed to give me the opportunity to understand the process of air permitting with respect to tribal communities and also encouraged me to get involved in the process. Some tasks I worked on throughout my internship were creating outreach and briefing materials aimed at owners of tribal minor sources and EPA employees to inform about the tribal New Source Review. I also created a list of minor sources on tribal lands and mapped them out using a geographic information system (GIS) so it could be used as a reference by EPA. I felt that I have accomplished a lot during my time in the agency. After working at the EPA, I realized how important it is to work in groups. Having help and opinions from other people enriches your work and solidifies it. It helped me feel more comfortable to speak up and share my thoughts. After interning here for 10 weeks, I can strongly say that EPA is a great place to work.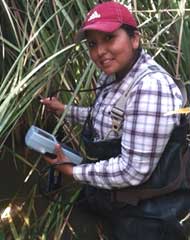 Althea Walker
Gila River Indian Community Department of Environmental Quality
Sacaton, AZ
Through the Institute for Tribal Environmental Professionals-Environmental Education Outreach Program (ITEP-EEOP), I completed a 10-week internship with the Gila River Indian Community Department of Environmental Quality (GRIC DEQ). The internship's primary goals were to become knowledgeable in the recycling process, assist with expansion and implementation of a newly-developed recycling program, and build partnerships with tribal departments, as well as with local, state and federal entities. The internship was a very valuable experience to my future career as an environmental professional. It allowed me to become more knowledgeable in the environmental issues my community faces. The staff at the GRIC DEQ welcomed me with no hesitations and allowed me to grow as an individual, a student, and a professional. This opportunity has opened doors for me and my appreciation to the ITEP-EEOP and the GRIC DEQ cannot be expressed enough. I encourage all students to find and use all their resources and opportunities will surely present themselves. Network, introduce yourself to as many people in the room as possible, because you never know which of those people will expose you to an opportunity that will change your life for the better. Now that my internship has been completed, I will be finishing up my summer courses at Arizona State University, as well as attending two environmental training events before the fall semester begins. I will be graduating in the spring with my B.S in Environmental & Resource Management.
Michael Halgonnie
US EPA Region 10
Seattle, WA
The core focus of my summer research was contacting organizations both in tribal and non-tribal communities to research their outreach approaches. I used the information I gathered to determine what methods were effective and which were not. I am walking away from EPA with a lot of new skills and experiences. The 10-weeks were busy and went by fairly quick. We decided to do a final report catered to Tribal Air Team Unit at EPA. I want to thank the people at NAU, the sponsors from ITEP, and the staff here at EPA for a truly rewarding, enriching, and fun internship experience. I know I have gained a lot, both personally and professionally.
Burrell Jones
Navajo Nation Air Quality Control Program
Fort Defiance, AZ
The Navajo Nation EPA Air Quality Control and Operating Permitting Program internship opened a new perception of the Navajo Nation government in action. The ten weeks taught and gave me insight about the scientific and political culture in the Navajo Nation. While on my internship, I learned the purpose of government, land and the people. This internship was very helpful in departing my comfort zone, adapting to another environment, and most of all introducing a "desk job". This would be my first encounter with working in an office space. After networking with my supervisor, outreaching opportunities and meeting other people that worked for the tribe within other offices, it seemed like school doesn't teach everything. I found that this was an experience to indulge in and figure out the system of government. I felt like this was my first baby step to my career goal. My dream in life is to be like Tecumseh, Sitting Bull, Chief Seattle, Chief Manuelito, Crazy Horse and many great leaders who sought the perseverance of identity. In that case, I believe earning a legal education can help broaden my understanding of a law abiding society. I enjoyed meeting the people from various parts of the reservation and I look forward to helping my home progress in the future. Thank you for this opportunity and experience.
Carrie Joseph
Central Arizona Project
Phoenix, AZ
As part of the NAU-EEOP and Environmental Educations Outreach Program, I was able to complete a summer internship with the Central Arizona Project located in Phoenix, Arizona. For the ten-week internship I worked on a project that focused on Native American communities located on the Colorado River that use Colorado River water. I evaluated the potential vulnerabilities that these Native American communities face in regards to climate change and their Colorado River water supply. To evaluate how climate change will impact the water resources of these native communities a hydrologic modeling tool was used to project water demand scenarios up to year 2060. Overall, the summer internship at the Central Arizona Project (CAP) was insightful and I am honored to be the one of the first tribal interns to complete this program. The knowledge that I gained and the work I produced will be a valuable resource for the tribes that were a part of this study as they consider future water resource planning and management plans. To those Arizona tribes who were not a part of the study it will serve as a model for water resource planning. I was fortunate to be a part of a knowledgeable and helpful team whom were always approachable through the duration of my internship. I felt that I was treated with respect and they were truly interested in learning about who I was, where I came from, and the work that I was doing. More importantly this was an opportunity to develop professional relationships, which will no doubt be valuable as I continue my graduate program at the University of Arizona.
Ariel Richardson
Washoe Tribe of Nevada and California
Gardnerville, NV
This summer I enjoyed working in the Washoe Environmental Protection Department for the Air Quality Program. This internship has been a great learning experience for me. Even though I didn't have much experience with the air program I was excited and eager to learn. The two main tasks that I was to fulfill while working for the WEPD this summer, was to update the emissions inventory for the four Washoe Communities, assist the WEPD staff with developing a QAPP based on the completed research from the emissions inventory, and to assist with operating the PM 2.5 air monitor. The new experiences I encountered was working for a different tribe, learning about the equipment used and what it does, the policies/procedures followed while using the equipment, meeting new connections, learning about the environmental issues the tribe faces, and what projects are being done to protect their natural resources. Updating the TEISS project came with many new experiences. I used my sources and researching skills throughout this project and was able to sharpen my communication skills, office skills, field work skills and time management skills in order to accomplish this project.
Steven Tallas
Nez Perce Tribe ERWM Air Quality Program
Lapwai, ID
During my internship I worked with the Nez Perce Tribe ERWM Air Quality Program to develop and disseminate air quality outreach and educational materials to youth and adults on the Nez Perce Reservation. Overall this internship was really helpful in enforcing my next steps in my future education. It also solidified my interests in the environment and also with working with another tribe was a great experience. I saw the many different issues and also many of the same issues that affect the Nez Perce tribe and my tribe of the Navajo. I meet so many great people that it expanded how I thought of an issue. The experience I had was once in a life time.
For more information, please contact:
Mansel Nelson
928-523-1275
Mansel.Nelson@nau.edu
---