---
EEOP Internships
Meet our Interns and Learn about their Internships

If you are a former ITEP intern, please contact ITEP to update your information. ITEP is interested in learning about your current academic and/or career endeavors.

2014 Summer Interns: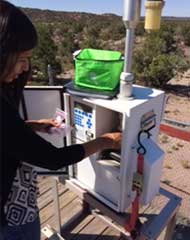 Krystle Chapman
Navajo Nation EPA Air Quality Control Program
Fort Defiance, AZ
I enjoyed working with the Navajo Nation EPA Air Quality Control Program. I learned so much during this internship. I learned about air monitoring and the different pollutants that the Navajo Nation is monitoring. I learned about particulate matter and their different sizes. I was given background information on how long the program has been around and the services that they provided. Throughout this internship, I was able to see that I became more confident in my work. This was such a great opportunity. I loved working at this internship and am looking forward to applying what I have learned here to school. I am really thankful for my mentor. She was an amazing teacher who gave me so much experience with things that I have never attempted before. I know that the things I have done here are what I am considering doing as a long term career goal.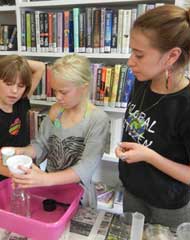 Sunshine Claymore
Nez Perce Tribe ERWM Air Quality Program
Lapwai, ID
I graduated with a Bachelor's in Environmental Science from Sitting Bull College located on the Standing Rock Reservation in North and South Dakota. Through the internship at the Nez Perce Tribe Environmental Restoration and Waste Management Program (ERWM) department I was able to apply the knowledge learned from my secondary science education courses to specialize in outreach and teach about various aspects and impacts we interact with as we breathe. I had ample opportunities to create air quality presentations and hands-on outreach activities to share with the local youth and adults. I was able to learn more about the tribal burn permit program and how they determine whether the air quality is adequate or if there needed to be a public release.
Some of the main objectives of this internship were to develop and present air quality presentations to the various summer schools, camps, Boys and Girls Club, and at least three local libraries. As for adult outreach this was focused on setting up display boards about air quality, burn permits, and personal/environmental health while participating in community events. As supplemental objectives I attended three tribal/ environmental education symposiums. This internship was a great opportunity to strengthen environmental awareness while developing human relations skills.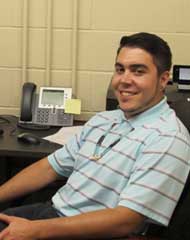 Justin Harter
Gila River Indian Community Department of Environmental Quality
Sacaton, AZ
I am a graduate of Business Administration at Haskell Indian Nations University in Lawrence, KS. I interned at Gila River Indian Community (GRIC) Department of Environmental Quality (DEQ) Air Quality Program in Arizona. During my internship I learned about the operations of one of the most comprehensive air quality regulatory and monitoring agencies in Indian country. I (1) coordinated and assisted in implementing the US EPA School Flag Program within the community, (2) developed presentations and outreach materials for adults and youth, (3) assisted in compliance inspections of point source emissions facilities, (4) assisted in the sampling and collection of ambient air quality data, (5) performed QA/QC technologies; such as, audits and calibration of O3 analyzers and PM10 monitors, (6) and studied environmental policies and issues relating to Indian country and the consequences of climate change in specific tribal communities. While I was interning, I was able to take part in two modules within the Tribal Environmental Management and Planning online course through ITEP at Northern Arizona University.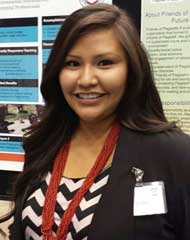 Tyesha Ignacio
UCS EPA Region 9 Air Permits Office
San Francisco, CA
This internship experience has been very enlightening and was largely made by the staff who has been very open to answering any questions, involving me in activities, and have always been willing to share their experience and opinions. Although, my internship was with the Tribal Air Permitting office in the Region 9 of the EPA; I have been able to be involved with the Environmental Justice, Tribal Programs, and Civil Rights, GIS coordination, Superfund Offices, and Navajo Nation also and expand my overall knowledge of the USEPA. Prior to this internship I can say that I knew little to nothing about how the EPA worked, air permitting, or even much about the Navajo Nation EPA. All of my projects and interactions involved a tribal element, which I believe made all the difference. In addition, because a majority of my projects circulated the Navajo Nation I believe that gave my work an extra layer because the community was not something separate from me. I was fortunate enough to be able to attend the Summer Regional Tribal Operations Committee meeting, in which tribal officials to meet and discuss environmental issues unique to their tribes' and how they plan to address them with the help of EPA.
I learned so much from my time at EPA. It was a really an all-encompassing internship experience. The projects I worked on pushed my critical thinking skills and helped me further develop my writing skills. I also became more aware of environmental issues on a national, state, and tribal level. I believe this internship helped me develop my professional and educational skills by allowing me to work in a professional office and defiantly influenced my future career and educational goals.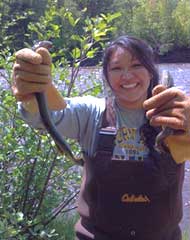 Darienne Nez
Great Lakes Indian Fish and Wildlife Commission
Odanah, WI
As an intern at the Great Lakes Fish and Wildlife Commission (GLIFWC) my main project was to ensure Chairwoman Karen Diver was up-to-date and prepared to fulfill her duty as a member of President Obama's State, Local, and Tribal Leaders Task Force on Climate Change on Preparedness and Resiliency. My supervisor and I worked to ensure that the recommendations received by several different Native American tribes were adequately represented in each subgroup as well as formatted and edited in a presentable and professional manor. The four different subgroups I was able to work on included Natural Resources & Agriculture, Built Systems, Disasters Recovery & Resilience, and Communities: Human Health & Development. Working with the Task Force Team has challenged me professionally in every aspect. I was responsible for intense reading, writing, and researching on various issues of climate change, solutions, environmental programs, and tribal law and politics.
I was also fortunate enough to work with the GLIFWC Lake Superior Fisheries Department and Public Information Office. The fisheries department allowed me to gain field work experience, where I was able to collect and learn about several different types of fish in the Great Lakes as well as the techniques for collecting data and fish.
All my projects and activities heightened my awareness of the rising issues of climate change. I was able to gain skills in and out of a professional setting and have been challenged to do amazing things for all Native American Tribes in my future career.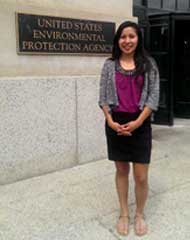 Amber Reano US EPA Office of Air and Radiation, Office of Atmospheric Programs, Clean Air Markets, Washington, DC
Ya'at'teeh! Hello, my name is Amber Reano and I was an intern at the USEPA Clean Air Markets Division in Washington, DC. I am originally from Santo Domingo Pueblo, New Mexico and I am a rising junior at Brown University in Providence, Rhode Island. I heard about the internship through a faculty member at Brown University and she encouraged me to apply because I am a public health major interested in environmental health. I was selected for the ITEP internship and took advantage of the opportunity to head to DC because I knew I would gain important experience working with the USEPA; which I did.
I worked specifically with the CASTNET monitoring program and their affiliates to develop essential communication and accessibility of data for tribal environmental communities. I took on four main projects which included generating web content for the tribes to view tribal monitoring sites and its data/information (will be published on the CASTNET website upon completion of my internship), attending majority of CASTNET-related/tribal-related meeting while at EPA headquarters, developing a poster for the National Ambient Air Monitoring Conference in August, and writing an article for the Climate Change Division of the EPA.
The opportunity to intern at EPA headquarters was unequivocally one of the best experiences I could have hoped for. This internship gave me the confidence, communication skills, first-hand knowledge, and much more to continue my academic and professional journey in the future. I want to thank my supervisor and mentor for all of their advice and mentorship over these last two months. I also would like to thank all my family, school, and the individuals at ITEP and EPA who made my internship possible. Ahe'hee!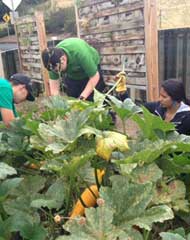 Natalia Shaw
Santa Ynez Band of Chumash Indians Environmental Office
Santa Ynez, CA
I was initially looking to expand my knowledge and gain experience in an environmental related field, but I never imagined that it would happen in such a short time while working for the Santa Ynez Band of Chumash Indians Environmental Office. I participated in a wide range of projects and activities, from writing up important documents for grants to sampling water in the local creek to going along on a home assessment to search for energy efficiency issues and possible indoor air quality problems. Through every project I was able to learn something new and gain that experience that I had been seeking. My work also taught me how to teach others and how to implement all that I have learned, and that is a very important aspect in all areas of life. I have had the opportunity to share my knowledge with tribal members and youth through several outreach opportunities and have been able to see, first-hand, the benefits of education on environmental issues.
My internship has helped me develop vital skills that I will be able to use in all aspects of my life, especially in school and any future career I may obtain in the field of environmental science. Every project provided a new learning opportunity and a challenge that led the way for new skill development. I have gained an understanding of environmental issues, especially concerning indoor air quality, which I would not have obtained if it were not for my internship. This ITEP internship provided me the chance to be in a new environment, one in which I have been able to thrive and grow professionally. No classroom setting could replace the experience I have had working for the Santa Ynez Band of Chumash Indians and all of the knowledge I have been able to obtain.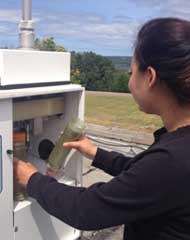 Tara Weston
Inter-Tribal Council of Michigan Environmental Services Division
Sault Ste Marie, MI
Working with the Inter-Tribal Council of Michigan in Sault Sainte Marie, MI was a great opportunity to gain experience with air quality. I had a variety of assignments working with ambient and indoor air quality with three Michigan tribes. Conducting emissions inventories was a large part of my summer. This information would provide guidance when implementing new regulations regarding air quality. The inventories helped to sharpen my research skills while working in the office and my communication skills when visiting facilities in the field. I also gained experience working with Partisol-Plus Model 2025 Sequential Air Sampler monitors and a Model 703E photometric ozone calibrator. Changing and picking up filters, assisting in audits, and replacing drying chambers were some of the tasks I had at the monitoring site. Experience working with ambient air monitors will be valuable when I enter this field after I graduate. The inspections we conducted on a visit to Mount Pleasant gave me experience with indoor air quality. Assessing the moisture issues in tribal buildings and informing the staff of these problems gave me practice with this process and I was able to convey my professional opinion on how to mitigate their air quality issues.
This internship allowed me to put my classroom knowledge into real world use. I also got to experience what it would be like to work with tribes to improve their environmental quality. The skills I have gained this summer will help to develop my resume and gives me a competitive edge after I graduate. What I ultimately took away from this internship was that I would love to work for an agency like the Inter-Tribal Council of Michigan, but with assignments with more fieldwork opportunities.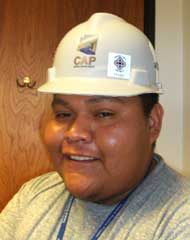 LeManley Gishie
Central Arizona Project
Phoenix, AZ
My internship was a success. Interning in the Environmental Department at the Central Arizona Project (CAP) opened my eyes to the issues we are currently facing, and also the issues we will be facing. With the shortage of water, there is a crisis on the rise. Beginning to understand these issues has helped me to prepare and study for purpose. The environmental issues will not go away, so there needs to be a solution. Working at the CAP showed me that the resources are actually real, and unless you are up to date on environmental issues, the general public will not even know about issues until they are being fined, similar to what is happening in Los Angeles, CA. My experience has taught me to be resourceful and every little bit to help the environment helps.
Learning how the tribal laws interact with the outside companies has helped me to know tribes still have some work to do in order to properly regulate activities within the reservations; to protect not only earth but also the health and safety of the public. Helping the CAP to understand the local tribal regulations has helped the tribes. It helped to improve the relationship between tribes and the CAP. So, when the tribes improve their environmental regulations, the CAP will be ready to work with them. My time spent here will serve as a basis to build upon to help both the company and the tribes.
I would advise all future interns to apply to intern at the CAP, it's a great company and you will learn so much more than about water. I am grateful for the opportunity I had as an intern at the CAP!
Brenda Gail Bergman
Chugach Regional Resources Commission
Anchorage, AK
I interned with the Chugach Regional Resources Commission (CRRC) in South-central Alaska. CRRC is a tribal nonprofit organization established by seven tribes of the Chugach region to address environmental and natural resource issues. My role was to help CRRC conduct Climate Change Adaptation Planning. I visited tribes and facilitated meetings with tribal representatives to document tribal observations, concerns, and priorities regarding climate change. I also conducted discussions with the range of other agencies and organizations engaged in climate change work in Alaska and the region, to discern their current priorities, plans, and avenues for deeper coordination with Chugach tribes on matters of climate change. This information laid the foundation for a process of CRRC and Chugach tribes to prioritize climate change actions in a way that addresses local priorities and provides tribes the opportunity to participate in broader discussions and decision-making on climate change in the region.
Christiana New Holy
Blue Star Studio
Pawhuska, OK
I am an Exercise Science Major at Ft. Lewis College. This internship was an experience that took me out of my element and truly educated me on environmental defects that affect Indian country of the Great Plains. I interned at Blue Star Studio Inc., an Indigenous American business enterprise dedicated to quality design and smart community building. This internship's focus was indoor air quality. I learned to navigate new information that I have never fully understood such as radon, particle pollution and mold invasion as well as the plans that EPA has put into effect because of it. I gained practical, hands-on experience in the planning and design of Resilient and Healthy Native Communities as it pertains to air quality. I am growing fond of these kinds of environmentally focused ideas. The information I have attained and collected will be helpful when I have my college degree. I plan to partner with other entrepreneurs to start successful health and wellness centers on reservations across Indian country.
I have also become knowledgeable of Federal and Tribal housing and development policies. I have witnessed design and construction practices take place in meetings. I have learned that design of buildings and homes specifically impacts human health and the environment. If you are looking for an internship that can intermix research focused on indoor air quality, greenhouse gas emissions and indigenous lifeway's the Resilient and Healthy Native Communities Internship is your top choice.
For more information, please contact:
Mansel Nelson
928-523-1275
Mansel.Nelson@nau.edu
---