---
EEOP Internships
Meet our Interns and Learn about their Internships

If you are a former ITEP intern, please contact ITEP to update your information. ITEP is interested in learning about your current academic and/or career endeavors.

2015 Summer Interns: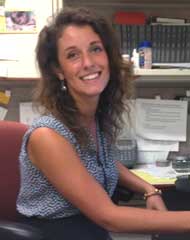 Kelly Anderson
EPA OAR Tribal Air Program, Washington D.C.
I am an undergraduate student in Environmental Science and International Relations at the University of San Diego. My internship was at the EPA Office of Air and Radiation, Tribal Air Program, in Washington D.C. I organized and presented an educational session directed at 35-40 EPA OAR employees on consultation, treaties, and environmental justice and how EPA employees should approach these topics in relation to Tribes. I invited another ITEP intern, as well as four other Tribal EPA interns, to participate in the presentation and to share their experiences. I also coordinated the program measures for the National Program Manager Guidance, State and Tribal Assistance Grants, and Indian Environmental General Assistance Program, to streamline the measuring strategies and to determine the best ways to measure the success of Tribal Air Programs. I compiled a comprehensive reference and guidance document that EPA employees will use to educate themselves on the specifics of the Tribal Air Program. I also drafted several formal communication efforts and participated in consultations with the Nez Perce and Navajo Nations and EPA administrative staff and attended the 2015 National Tribal Caucus Meetings.
At the conclusion of my internship, I gained a greater sense of self-confidence and a deeper understanding of the hurdles and environmental injustices Tribes face on a daily basis. I also gained an appreciation for the importance of cooperation between Tribes and EPA for the greater goal of improving public health through monitoring and improving air quality.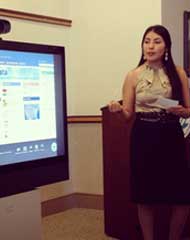 Marquel A. Begay
U.S. EPA/OAR/OAQPS/OID/CTPG
Yá'át'ééh, shí éí Marquel Begay yinishyé. Shí Dine'é nishlí. Tséníjíkiní doon'é nishłįigo. Honágháahnii bashishchiin. Tł'iziłani éí dashicheii dóó Tábąąha éí dashinálí.
My name is Marquel Begay, and I am proud to say that I am Diné (Navajo). I am a member of the Honey-Combed Rock People, born for the One Who Walks Around clan. My maternal grandfather is of the Many Goats People and my paternal grandfather is of the Water Edge People. I am from Black Mesa, Arizona.
For the summer of 2015, I completed an eight-week internship with the U.S. Environmental Protection Agency (EPA), Office of Radiation (OAR) in Research Triangle Park, North Carolina. In particular, I assisted the Community and Tribal Programs Group (CTPG). CTPG focuses on working with tribes, Environmental Justice, and other communities to protect public health and the environment.
For the course of my internship, I conducted the Tribal Air Quality Monitor Study which is designed to identify the various types of air monitor networks operating within or near tribal areas in Indian Country. The study provides a GIS tool that consists of maps and data to further assist EPA in improving tribal air monitoring efforts.
I appreciate NTAA and ITEP for providing me the grand experience to intern with the U.S EPA OAR. Through my internship I gained great insight, worked on interesting projects, visited spectacular places, and created-life-long friendships. The internship has influenced my career path in becoming an environmental leader for my tribe in regards to environmental law, justice, and renewable energy development. I encourage individuals interested in tribal environmental issues to apply to various programs ITEP offers as it will provide an excellent experience for individuals to better understand the relationship between tribes, states, and the federal government, and how to make a difference within tribal communities.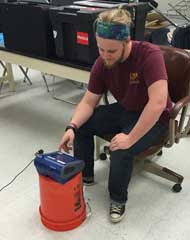 Jackson King Chastain
Nulato, Alaska
During this internship I experienced a ton of things. The first few weeks while I was in Nulato I was experiencing living in a small native village. As the weeks carried on I helped packaging up white goods and E‐waste to be back hauled out. I also was evacuated from Nulato because the forest fires that surrounded the town. Then I was transferred to Fairbanks to work at UAF and help with their research on road dust and the use of synthetic fluid palliatives in villages. While I was at UAF I learned how to use a DustTrak II aerosol monitor that I would use in back in Nulato to help monitor their problem of road dust. After my time in Fairbanks was up I was headed back to Nulato. The last few weeks I was here I started doing my air monitoring in 3 locations where many people pass by each day. Overall this internship was a great adventure, learning experience, and place to be located this summer.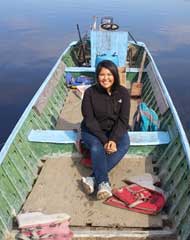 Autumn Harry
Tanana Chiefs Conference - Office of Environmental Health
I am an undergraduate student at University of Nevada, Reno where I am studying Environmental Science. This past summer, I interned with Tanana Chiefs Conference- Office of Environmental Health in Fairbanks, Alaska. Throughout my internship, I had the opportunity to travel to five rural villages, where she assisted in providing environmental health education in relation to indoor air quality. During my travels, I was trained to provide rabies vaccinations, assisted in mold home assessments, and conducted clinic environmental health surveys. One of my primary tasks was to adapt a healthy homes assessment survey, which will make it easier for community members to self-assess mold and ventilation issues within their homes. I also completed an indoor air quality activity book for village youth. This activity book will be used to educate the youth about the importance of maintaining healthy indoor air quality. I enjoyed my time traveling to rural villages, viewing wildlife, exploring the scenic Alaskan landscapes, and visiting with the local Athasbascan people.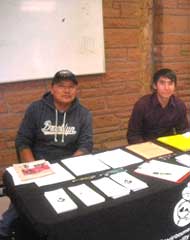 Charles T. James
NNEPA Fort Defiance, AZ / Air Quality Control
I have worked with many interns during my time at college. So far I have been to two different institutions and been to two different internships. I think it is great to experience time, ideas, and explorations together. It is even better after working hours. One of the greatest things I have ever done with fellow interns was climb a 14,000 ft. mountain or surf the Great Sand Dunes in Colorado. Working with a mentor is also something great because they can show easier ways of confronting problems or looking at a situation in a different light. Being around other minds was insightful too. To collaborate with some info with the other interns was interesting because we are all from different backgrounds. I was cool to get some of their ideas, especially deciding which image to use on my pamphlet assignment. When we traveled to different sites, we got to know one another. Everyone has special goals in life. I can't wait to see what life brings next.
(LEFT)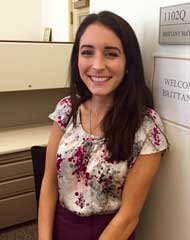 Brittany McConville
U.S. EPA Headquarters Indoor Environments Division (POLICY)
This summer, I had the privilege of working as a ITEP Intern at the U.S. Environmental Protection Agency in the Indoor Environments Division in Washington, DC. The public health topic I worked on this summer was with Tribal communities and their indoor air quality issues including radon, mold, pests, dust, wood burning stoves, and carbon monoxide. These present several problems in adults and children including asthma, lung cancer, and even death amongst others. The approach that the EPA took with me this summer was to participate in many indoor air quality groups' conference calls and helping where I can, while also working on several tribal success stories to document on the EPA website. This is a way for other Tribes to see the incredible IAQ programs around the nation while highlighting different government grants and resources they can pull to complete their own programs. My main finding is that there are many avenues to leverage resources but there isn't a good way to disseminate this information. I was also able to participate in the Northwest Tribal Asthma Project Team and helped edit and create documents for their efforts. I contributed in an intern panel to inform the Office of Air and Radiation on Tribal consultation and environmental justice issues. Finally, I attended the Region 6/7 Tribal Stakeholder's Meeting in Wyandotte, Oklahoma and learned about various indoor air quality topics, success stories, and ways to leverage funds. This conference also included a full day of indoor air quality training that was presented by NAU ITEP. In conclusion, our nation is in need of driven public health professionals who are passionate about eradicating indoor air quality issues in Tribal nations.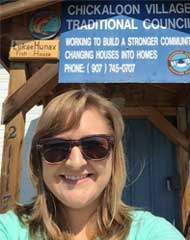 Jessie Mroz
Chickaloon Village Traditional Council (CVTC)
I am a graduate student at the Indiana University School of Public and Environmental Affairs studying Environmental Science and Public Affairs. I worked with the Chickaloon Village Traditional Council (CVTC) in Sutton, Alaska and developed an Indoor Air Quality program for the CVTC Environmental Stewardship Department. I drafted a Resolution on Indoor Air Quality signaling Council support of future IAQ projects and grant applications. This passed unanimously by Council, along with a comprehensive Green Cleaning Policy for all CVTC buildings, limiting the use of toxic cleaning products and standardizing the cleaning process for healthy indoor air. I created a Mold Policy for residents of Tribal housing, which provides new tenants with extensive information on mold health hazards, prevention, and remediation. Two ordinances I drafted on Speed Limits in Tribal Housing and No Idle Zones for all CVTC campuses are going through internal revision and approval process, but were positively received by the Chickaloon Council. I supported future IAQ research by gathering IAQ baseline data from CVTC buildings and Tribal and community homes. I also created informational flyers and brochures on IAQ hazards to distribute to Tribal members and the greater community. I couldn't have imagined a better internship than I had at Chickaloon this summer. My supervisors were supportive, which enabled me to get a lot of good work done and learn directly from some really amazing people. My projects were well-planned and robust, giving me a professional development opportunity as well. This has been such a great experience that it has inspired me to pursue a future career advocating for Tribal environmental programs.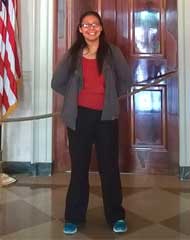 Janessa Roy
During my internship with the National Nuclear Security Administration in Washington, D.C. I was assigned with the Office of Leadership and Career Management. My supervisor gave me two main projects. One was to go through a data set of all the courses that Supervisors in the organization took and total the hours of supervisory training for each. This information was emailed to the supervisors. The second project was to go through the Federal Employee Viewpoint Survey results to come up with recommended courses that would bring up the positive rates in the survey. Overall, I was a wonderful time in Washington, D.C. and spent many hours visiting the museums and memorials.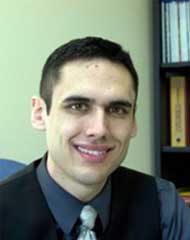 Trey Saddler
EPA R9 Office of Air, San Francisco, CA
I am a recent graduate of Salish Kootenai College and an enrolled member of the Chippewa Cree tribe of Montana and I spent this summer working with EPA Region 9 Office of Air. The purpose of my internship was to help establish a Region 9 Tribal Indoor Air Quality and Health Network. This network would be designed to facilitate the sharing of resources, information, and to help foster working relationships between tribes, governmental agencies and nonprofit organizations to improve indoor air quality on reservations within the region. I spent time researching current work being done, contacting potential partners, and developing the framework for this network. In the future, I hope to attend graduate school for environmental toxicology and work with tribes to improve their overall environmental health.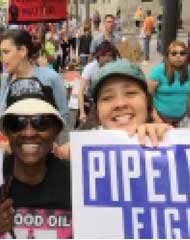 Nicolette Slagle
Honor the Earth
The ITEP internship allowed me the opportunity to achieve several long-term goals. Through this program, I was able to work with Honor the Earth and become engaged in a number of land-rights issues facing Tribes. This experience has taught me a lot about how environmental regulations are failing Tribes and the jurisdictional rights some Tribes are starting to claim. Part of my internship included working with the White Earth Tribal Department of Natural Resources on their Treatment as a state paperwork. I have also worked with their pesticide officer to determine sampling sites to install groundwater monitoring wells. Since Honor the Earth is a national organization, I have been able to learn about several other national campaigns, such as the Intertribal Utilities Council and other renewable energy projects. I also got to help with several community-based projects, including a lacrosse camp and various community meetings. The ITEP program was an amazing opportunity, and I would recommend it to other students interested in Tribal issues.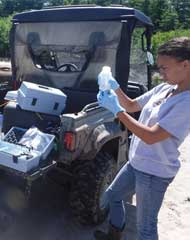 Maria Thompson
Keweenaw Bay Indian Community
My internship was through the Keweenaw Bay Indian Community Natural Resources Department in L'Anse Michigan. The tribe is located next to Lake Superior and therefore unsurprisingly many of their efforts revolve around cleaning and maintaining the lake and its surrounding environment. Throughout the course of the internship I was exposed to new technologies and an alternative way of doing things.
During the internship my primary responsibility was to establish the community's energy baseline so that they would be able to assess their energy efficiency efforts and set goals for the future. However, I was also able to assist with water sampling, fish surveying, and wildlife management projects. Overall the internship broadened my knowledge in a multitude of fields relative to environmental management, and has positively influenced my future career goals.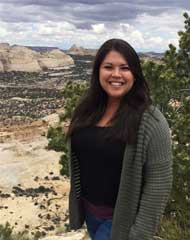 Jacklyn Velasquez
Big Pine Paiute Tribe of the Owens Valley- Environmental Department
After completing my first year in law school I decided to get some environmental experience in an area that wasn't a law office. Though a little unconventional, I wanted to see how 'real life' application of environmental law is applied on the Tribal level as compared to the theory I learned from class. What I found was an experience that helped me learn and grow tremendously in a different way than the classroom offered. Learning in an office full of professionals like the ones here in Big Pine is a drastically different experience than learning in a classroom. Here, the passion for environmental protection is high and the workload is also. Things you learned in theory you get to see in actual practice. That's my favorite part, getting to apply what I've learned. It makes all those early morning and often riveting lectures feel so much more valuable. I didn't bring my Code of Federal Regulations book but I wish I had! Now that I've learned material in these two different ways I feel more prepared and more excited than ever to get back to work on my legal education.
To any student interested, I absolutely recommend working with this group of professionals, especially if you're looking for Tribal experience. The history of Owens Valley Paiute is so rich that it would intrigue any person to pursue learning and advocating for environmental justice. Interning with the Big Pine Paiute Tribe is really an amazing experience.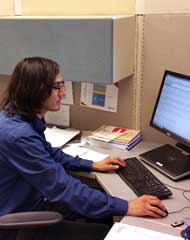 Christopher B Yazzie
Central Arizona Project
I worked at Central Arizona Project on an assignment that created profiles of Arizona Indian tribes that obtain water from the Colorado River. I utilized data from Central Arizona Project and the Bureau of Reclamation to create historical water delivery and usage reports. The project I participated in will aid Central Arizona Project in stakeholder relation, specifically Arizona Indian tribes.
The internship provided me with the experience of working in an office with water resource professionals. I also learned about the issues Arizona Indian tribe face with utilizing water obtained from water right settlements. Overall, working at Central Arizona Project allowed me to expand my working experience as an Environmental Engineer and learned how my career goals can be used to contribute to Indian tribal water resource management.
For more information, please contact:
Mansel Nelson
928-523-1275
Mansel.Nelson@nau.edu
---