---
EEOP Internships
Meet our Interns and Learn about their Internships

If you are a former ITEP intern, please contact ITEP to update your information. ITEP is interested in learning about your current academic and/or career endeavors.

2016 Summer Interns: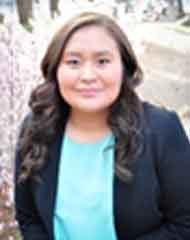 Wilda Anagal
US EPA Office of Air & Radiation
Washington, DC
Yá'át'ééh, my name is Wilda Anagal, I am of the Bitter Water clan born for the Black Sheep clan. My maternal grandparents are of the One Who Walks Around clan and my paternal grandparents are of the Mexican People clan. I am originally from Black Mesa, Arizona. In 2014, I received my BS in Environmental Science with an emphasis in Biology from Northern Arizona University. I am currently a graduate student in the PSM Climate Science and Solutions program at Northern Arizona University. My internship with the U.S. EPA Office of Air and Radiation has been a great experience and has expanded my knowledge in Tribal Policy and Tribal Air programs. The internship has also allowed me to learn what skills I need to enhance and it definitely has allowed me to strengthen my foundation of my future career. Upon accepting the internship offer, I was undecided which PhD program I want to pursue, now I decided that I would like to receive a PhD in Public Administration. Other than defining my educational goals, I have been inspired to work with EPA in the future. Interning in Washington, DC. I have realized that I could have a greater impact working with over 500 Tribes across the U.S. The internship has allowed me to recognize my passion and gives me motivation to succeed in the future both academically and professionally.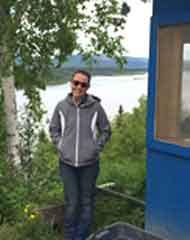 Nicole Forbes
University of Alaska Fairbanks
Fairbanks, AK
Graduating college, though it is a monumental achievement, can be daunting. College can feel like being in a bubble from the rest of the world; your studies come first and everything else comes second. However, when you graduate, that bubble pops and the real world is suddenly very real. With graduation looming ahead of me after five years of school, I was quite unsure of where my path would take me. Did I want to go to graduate school? Did I want to get a job? What kind of job did I want? One thing that I was certain of was that I wanted to travel and get outside of Texas. I received an email from one of my professors at Texas A&M about internships with ITEP. I saw that there were a variety of internship positions in a variety of locations. I decided to apply, thinking that a two month internship would give me plenty of time to really think about what I wanted to do and give me some experience in my field. I ended up being offered an internship in Alaska that was exactly what I was looking for: research based with field and lab work along with some travel in Alaska. I spent two wonderful months working in the numerous labs, analyzing data, and even travelling to a remote village to complete some fieldwork.
However, though the work was incredible, that was not the best part of the internship. This internship provided me with insight to the real world and what I wanted my position in it to be. This lead to me deciding that I loved Alaska and working for Indian tribes in relation to environmental issues. I am now moving to Ketchikan, Alaska to work as the Environmental Specialist for the Indian community. I highly recommend ITEP internships not only for the amazing work you will get to do, the incredible people you will meet, and the wonderful places you will go, but also the opportunities that may come as the result of your experience.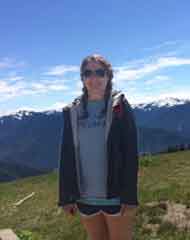 Emily Fortier
Tribal Healthy Homes Network
Marysville, WA
My name is Emily Fortier and I am a senior at Ole Miss majoring in anthropology and minoring in chemistry, with a drive and passion for public health. This summer I worked as an ITEP intern with the Tribal Healthy Homes Network in Marysville, Washington. My work this summer focused on indoor air quality in the homes on the Tulalip reservation, where I assisted in conducting healthy homes assessments to address indoor air conditions that could adversely impact occupants with asthma, lung disease or compromised immune function. I also spent time shadowing tribal housing inspectors to learn what information is most useful and how parts or pieces of a Healthy Homes assessment can be integrated into a standard home inspection. To expand my research outside of just Tulalip, I also conducted an indoor air quality survey of tribal housing departments from each of the EPA's 10 regions. My survey was important in identifying current indoor air quality procedures and practices integrated into tribal housing inspections, as well as the knowledge, perceptions and barriers around indoor air quality as a necessary component of inspections.
I aspire to work in a career in public health because of the opportunity to apply science and humanities in a way that positively impacts the health and well-being of everyone. Working with ITEP and Tribal Healthy Homes has been such a great experience because it allowed me to work the science side of public health by working with mold and moisture issues in homes, and the humanities side in working with and for people who are suffering due to poor indoor air quality. Having the opportunity to learn and grow surrounded by such supportive colleagues has been the best way I could have spent my summer.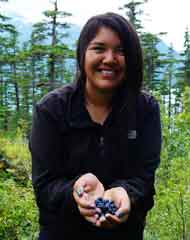 Autumn Harry
US EPA Region 10 Alaska Operations Office
Anchorage, AK
My name is Autumn Harry. I am currently a senior at the University of Nevada, Reno majoring in Environmental Science. This summer I interned with The Environmental Protection Agency (EPA) Region 10- Alaska Operations Office in Anchorage, Alaska.
EPA is providing assistance to help three Federally Recognized Alaska Native Tribes address current and future climate change impacts on their communities. Shishmaref, Shaktoolik, and Newtok are located within the Western coast of Alaska and are experiencing significant climate change impacts such as coastal erosion, increase in severe storms, and flooding.
Beginning in October of 2016, the Alaska Native Tribal Health Consortium (ANTHC) in partnership with EPA, through a grant, will conduct Healthy Homes Assessments within Shishmaref, Shaktoolik, and Newtok. My project involved partnering with ANTHC to help develop an expanded Healthy Homes Assessment tool to include other climate change impacts and concerns. The purpose of an expanded assessment will help to increase awareness of climate change impacts within Rural Alaskan communities.
Towards the end of my internship, I developed an example of an expanded assessment. The information I gathered for my report was based on Tribal documents, Tribal EPA IGAP project plans, and engaging directly with community members. This expanded assessment could potentially provide helpful data on how individual homes are being impacted by changes in climate, especially in at-risk communities. If successful, this could potentially be a good model for other communities who are experiencing climate change impacts. This would be one way to get household level impacts associated with climate change and would be an important step in an integrated community environmental response, whether they are working to protect water supplies, develop capacity for emergency response in individual homes, improving housing conditions, or improving food security.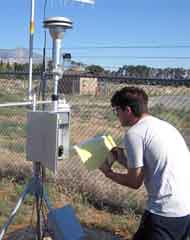 Stephen Hilton
Big Pine Paiute Tribe of the Owens Valley, Environmental Department
Big Pine, CA
I remember having a horrible realization: my time in college would end. All I could think about were times when people told me that college was the best time of their life and how they wished they never left. I had no idea what a full time job would be like or what people actually did when they weren't in college. I needed an internship.
I looked at my college's job finder, which I don't think realized what my degree was because the top recommendation was "grief counselor". I looked at internships that I heard about from others. Then one day I saw a forwarded email from the Institute of Tribal Environmental Professionals. I ended up interning with the Big Pine Paiute Tribe of the Owens Valley, which was having serious troubles with water rights and dust emissions due to water diversions and pumping to the LA aqueduct. Basically everything that I knew about the situation before came from the fact that I saw Chinatown once while I was busy. What I learned was much more than that (terrific) movie taught me.
In addition to getting a chance to live in a beautiful place that was not flat and humid, I experienced firsthand the resource struggles and environmental injustices many people have to go through. I got a glimpse of life on a reservation. I saw how one big decision (as well as others) affected almost every part of the Paiute's lives and gained perspective on the struggles of many people. I witnessed how vulnerable places were that depended on diminishing snow and glacial melt were to climate change.
I learned many of the tasks a career in my field would entail. I spent time testing for particulate matter and considering meteorological trends. I went hiking. I applied my knowledge of climate change to a new area and a unique community. I went hiking. I put both the knowledge I had learned over my lifetime and my personality into outreach activities. I went hiking. I went to meetings and did many things that I might end up doing in the future. Like hiking.
Most importantly, this internship showed me how actions may have long lasting negative repercussions for others, which is a lesson anyone involved in environmental and natural resource management needs to learn.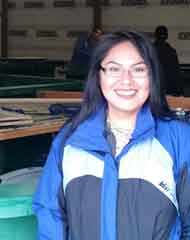 Shundene Key
Nez Perce Tribe ERWM Air Quality Program
Lapwai, ID
The interest of mine this summer has been how to make a connection, in American Indian communities, in a manner that includes western science and traditional knowledge. I have been able to use my creativity and interests to do outreach in Lapwai. Included was doing presentations for five weeks at the Boys & Girls Club, attending the Clearwater Sixth Grade Forestry Tour, and community events. At these places I had the opportunity to get to know community members, network with professionals, and learn about indoor and outdoor air quality.
Travelling throughout the Nez Perce community has been a motivator for my environmental enthusiasm. Watching the changes being made for air quality in homes by community members has been extraordinary to witness. Seeing grandmas make their own cleaning supplies, parents making changes to their homes to help make it a safe space for their child with asthma, and kids giggling every time they say ozone. The term, cultural exchange, is an understatement of the connections made on these beautiful lands. I have boundless hopes for the wellbeing of the Nimiipuu people. This summer has been a tremendous learning experience and I will take this optimism and apply it in my own community. It was the best summer I have had, also I hope each intern will have the same opportunity and outlook.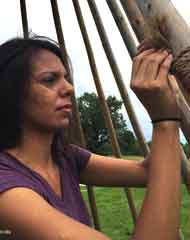 Rachel LaMantia
Honor the Earth
Callaway, MN
I found myself performing a wide array of activities and projects as an intern for Honor the Earth under Winona LaDuke the founder of the organization in 1993. A couple weeks after my arrival to the White Earth reservation, home to the Anishinaabe people in Minnesota, the 4th Annual Love Water Not Oil Tour was about to begin, a spiritual 2-week horseback journey along the route of the proposed Sandpiper and Line 3 pipelines. It was during this tour that I learned a new set of skills that I never thought I would learn, from shoveling up horse poop to setting up a teepee.
The remainder of my internship work focused on making the villages on the White Earth reservation not only beautiful, but energy efficient, leading to the path of mino bimaatiziiwin…the good life. It all begins in Pine Point and is defined by three main items of focus: Solar, Local Manufacturing and Production, and Art. It is here that I was able to attend the third solar thermal panel install, perform site assessments, create a mock-up for solar on the Pine Point School, identify possible solar farm locations, conduct a climate report, research a design for a manufacturing—solar panels, hemp for silk screening and community sewing—building weaving traditional Ojibwe Wigwam housing strategies with modern strategies fit to the environment, and assisting artists in painting murals on the houses in Pine Point.
This internship has given me real life experience that has not only broadened my skill set, but has given me more awareness of the issues that we as Native Americans face, and the role we play in protecting our planet. There is great importance and value in living sustainably, and is what I envision myself doing in all aspects from here on out. Miigwech for this opportunity.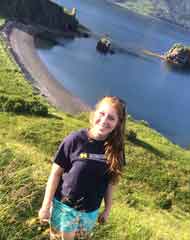 Michelle Phalen
Alutiiq Tribe of Old Harbor
Old Harbor, AK
I am entering my senior year at the University of Michigan where I am studying Spanish and International Studies with a focus in Global Environment and Health. This summer, I was an intern at the Old Harbor Tribal Office in Old Harbor, Alaska. I am interested in public health, environmental justice issues, and how people interact with the environment, and this internship allowed me to combine all of my interests. My internship focused on raising awareness about indoor air quality and doing outreach through community events, which were directed towards both youth and adults. In addition to planning community events, I wrote several articles for the community's environmental newsletter, produced informational materials to distribute to community members, conducted home assessments in several homes and provided homeowners with individualized recommendations, and wrote a grant proposal to request funding to purchase indoor air monitoring equipment to conduct more thorough home assessments. Throughout my internship, I spent time with community members and learned more about their needs and concerns. In addition to addressing indoor air quality concerns, I learned how Tribes function.
As an intern, I had a variety of assignments, which provided me with a broad range of skills and experiences. My experience in Old Harbor made me recognize the importance of raising awareness about indoor air quality because many people are unfamiliar with indoor air pollutants. I am happy to have shared what I learned with the people of Old Harbor, and I am eager to implement when I have learned in my own community as well.
In addition to professional and educational experiences, this internship allowed me to experience many adventures. Living in a Native Alaskan village for two months was a unique and wonderful experience, and I had the opportunity to hike, camp, fish, swim, pick berries, and explore beaches. I spent much time with the people in Old Harbor and enjoyed creating relationships with them, and I also enjoyed learning about Alutiiq culture. I am extremely grateful to have had this experience.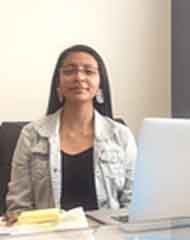 Natalia Shaw
Port Gamble S'Klallam Tribe Natural Resources Department
Kingston, WA
Boozhoo! Hello! My name is Natalia Shaw and this past summer I was an ITEP intern for the Port Gamble S'Klallam Tribe Natural Resources in Washington State. My main tasks as an intern focused on indoor air quality and climate change work. Some of my day to day tasks included: coordinating meetings with the health housing tribal departments to discuss indoor air quality concerns within the community, creating educational materials, distributing and collecting surveys to tribal employees, engaging in conference calls with representatives from the American Lung Association, planning and putting together an indoor air quality training for employees, researching different methods for measuring sea level rise and applying in to the local area, meanwhile working with experienced staff from different organizations, and networking with environmental scientists form different tribes. This was my second summer as an ITEP intern, and I chose to apply to be an ITEP intern for a second time because of the great experience, basis for acquiring applicable knowledge, networking opportunities, and relationship building opportunities I had. As an environmental science major, and native person, one of my career goals is to help tribes advance their environmental programing in order to increase sustainability and community health. ITEP has provided me with great experience in which I have had an opportunity to learn, first-hand, about working for an environmental office, doing field work, engaging and involving community members, education and outreach, and how to build partnerships with other environmental organizations. As an ITEP intern you are not doing work that involves filing papers, organizing files etc. you are doing work that will give you experience in working for tribal or non-tribal organizations, and while you work you have the opportunity to learn how to work independently and with co-workers, and community members. ITEP is a great internship for anyone who is interested in gaining work experience, especially those interested in public health or environmental science and working with tribal communities.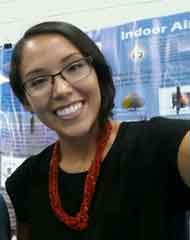 Chanelle Tilden
Navajo Nation Environmental Protection Agency Air Quality Control Program
Fort Defiance, AZ
Shi ei Tsinaajinnie nishli doo Naaneshtazhi Tachiinii bashishchiin. Naakai Dine'e ei da shi cheii doo Tabaahi ei da shinali. Chanelle Tilden yinishye. A'koteego Dine' nishli. I graduated from Arizona State University in fall 2015, and spent spring 2016 in Washington DC doing an internship in the Office of Environmental Justice at USEPA. Making that transition from USEPA to the Navajo Nation EPA in the Air Quality Control Program has been, by far, such an amazing experience. I went from working with the Tribal Program Manager at USEPA HQ learning about tribal environmental programs, tribal policies, and environmental justice issues that affect not only indigenous people in the United States, but indigenous people in other countries as well to actually working for a tribal environmental program for my tribe, learning about our own policies and regulations, and most importantly, doing outreach in communities that I grew up in.
As an intern here, I got to travel to each of our monitoring sites, one in AZ and two in NM, where I learned about how our air monitors work and how to calibrate them. I also got to go on a water sampling trip with the NNEPA Water Management, which was such an unforgettable experience. I also got to take part in multiple outreach events in local communities at health and career fairs where I spoke to community members about the program. My main task for the entire summer was to create an outreach video addressing indoor air quality issues caused by wood stoves, that covered topics from stove maintenance to proper Burnwise techniques.
To anyone considering ITEP, or any internship, I would strongly encourage them to take advantage of the opportunity. Both internships I got to attend this year complimented each other so perfectly and have certainly affirmed for me that I am on the right path. I will continue to pursue environmental work, especially in ways that I can contribute to Indian Country, and I couldn't be anymore grateful and happy with both experiences. A'hxehee, ITEP.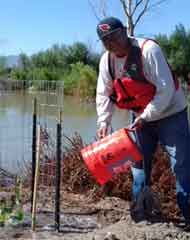 Emmett Tsosie
GRIC
Sacaton, AZ
My experience here at the Gila River Indian Community Department of Environmental Quality in Sacaton, Arizona gave me an opportunity to excel at my writing and research skills, my environmental fieldwork skills, and expand on my sampling and processing skills in a laboratory setting. This was possible because I was able to participate in six (6) projects for this tribal entity during my 8-week 2016 ITEP summer internship.
This includes: 1.) Environmental evaluations on tribal and allotted lands throughout the community. Fieldwork includes; inspecting proposed sites for future development, documenting solid and hazardous waste concerns in these areas. 2.) Identifying climate change impacts, adaptive capacities, vulnerabilities, risks, and adaptation strategies within the community. Researching and developing a plan that will identify and evaluate the resources that are most vulnerable to climate change and those that can best address it. 3.) Developing and integrating a green building initiative, which is based on GRIC Resolution GR-141-15, which is part of an initiative the EPA Region 9 has offered enhanced coordination and support to the community specifically to advance the communities sustainability goals around building housing, energy, and transportation. 4.) Assist with ecosystems restoration in The Pee Posh Wetlands Ecological Characterization Project. The Pee Posh wetlands is being restored and protected so that future generations of Akimel O'odham (Pima) and Pee Posh (Maricopa) will have a chance to remain connected to these precious areas that do still remain. This project introduced me to a real world scenario of an ecosystems restoration project. How an ecological restoration project is accomplished in the field. 5.) Assist the GRIC DEQ Wildlife and Ecosystems Management Department in the surveillance of Aedes aegypti (mosquito). The primary objective of the Aedes aegypti surveillance and control is in response to the risk of introduction of dengue, chikungunya, Zika, and yellow fever viruses in the community, the prevention of the spread of these viruses. This project furthered my skills in a laboratory setting. Identification, sampling, and processing, of the Aedes aegypti mosquitoes. 6.) The GRIC DEQ Wildlife and Ecosystems Management Department winter bird count research- the research involved searching the departments winter bird count related documents from the years 1998-2015; locating files related to yearly bird count activities, checking all documents for information, raw bird count data, compiling new Excel spreadsheets, and furnishing a summary on the research and findings.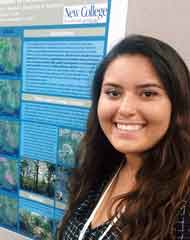 Gabriella Frankhouser
Pueblo of Santa Ana Department of Natural Resources
Santa Ana Pueblo, NM
This summer I had the opportunity to intern under the supervision of Maxine Paul, the environmental program manager at the Department of Natural Resources (DNR) on the Santa Ana Pueblo in Bernalillo, New Mexico. My internship involved updating the Pueblo's air quality report which was completed using state and national databases of air monitoring data. Some of this data is collected by the Environmental Protection Agency (EPA), and some is collected by state-run agencies, such as the New Mexico Environment Department (NMED). Throughout the summer I studied intricacies of the clean air act, how it's changed over time, and the infrastructure in place now to support National Ambient Air Quality Standards (NAAQS). I also compiled data for the different criteria air pollutants over the past fifteen years, (2000-2015). The work I did was somewhat of a continuation from a report written in 2000 where there was actual onsite monitoring being done by the DNR. This was a fantastic internship and I learned so much more than I ever expected to.
In addition to updating the Pueblo's air quality report, I have had several opportunities to work with other DNR employees and programs within the Pueblo. Some of these outside experiences include participating in the Pueblo's hydrology summer camp camping trip to Jemez Springs, as well as participating in macroinvertebrate sampling in the Rio Grande with the DNR's Water Resources Division. While these activities have only taken up a small fraction of my time in the Pueblo, they have provided me a greater understanding of how the Department of Natural Resources functions, and how each employee is really a part of a greater team of folks working on a variety of projects. I would suggest this internship to anyone who has a passion for the environmental sciences and wants to gain experience in the natural resource management field.
For more information, please contact:
Mansel Nelson
928-523-1275
Mansel.Nelson@nau.edu
---