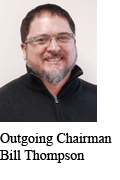 Outgoing Message of the NTAA former Chairman:
During this time of holiday celebration and with the upcoming New Years' time of renewal, it is appropriate to announce the arrival of the new NTAA Chairman: Wilfred J. Nabahe, Director of the Colorado River Indian Tribes' Environmental Protection Office. Wilfred has been and will continue to be the representative of Tribes located within the boundaries of EPA's Region 9. The NTAA Executive Committee considers him to be a staunch advocate for the rights of Tribes and a loyal ally in our work to protect the air that we all breathe. He will bring dignity and intelligence to the NTAA Chairmanship.
It has been a very interesting six years, six months and six days since I was put in as the Chair (it was supposed to last only two years). During this time, I've become friends with many intelligent and capable people with an interest in breathing clean air, and the NTAA has become a family to me. Once one is bitten by the NTAA bug, it never leaves you.
That is what makes NTAA unique: Our sense of unity and purpose. Thank you to each of you for the opportunity to have a seat at this table and to work side by side with you.
---William Q. Thompson, Penobscot Nation Vice Chief
If you have any questions or comments, please
contact us
!
NTAA is currently monitoring and working on important Tribal air quality issues including:
The VW Settlement regarding violations of the Clean Air Act. For background on this $50 million settlement for Tribes, check out: NTAA's VW Settlement Work Group page here.

The NTAA VW Settlement Work Group and Tribal Air Monitoring Support Center's Steering Committee submitted a letter on November 23rd, 2016 to the Department of Justice in response to a request for Tribes to submit a consolidated list of trustee candidates to manage and distribute the $50 million settlement for Tribes. Click here to view the letter.



Indoor Air Quality

​NTAA has re-opened the Indoor Air Quality (IAQ) Needs Assessment for Indian Country! The NTAA IAQ Work Group has re-opened the IAQ Needs Assessment in hopes that more Tribes will complete the on-line form found here!
NTAA has signed onto the National Radon Action Plan to assist in the effort in reducing radon risk in 5 million homes and saving 3,200 lives annually by 2020. To learn more, click here.