Policy Response Kits:
Clean Energy Incentive Program
The comment period for EPA's proposed Clean Energy Incentive Program (CEIP) is open until November 1st, 2016. The CEIP was developed as part of the EPA's Clean Power Plan (CPP) as a mechanism to encourage early investment in zero-emitting renewable energy generation to help achieve CPP goals. The court-ordered stay of the CPP allows states to continue planning efforts, and the EPA is able to move forward with the CEIP because it is a voluntary program.
The CEIP will provide incentives, via Emission Reduction Credits (ERCs) or allowances, to eligible renewable energy and energy efficiency projects. ERCs and allowances can be purchased by CO2 emitting power plants in order to comply with emissions standards under the CPP.
Tribes with affected sources (i.e. power plants affected by the CPP) may develop plans and elect to participate in the CEIP. Tribes without affected sources may also participate in the CEIP, however this depends on their state first implementing a State Implementation Plan (SIP) and opting-in to the CEIP.
NTAA has prepared a fact sheet on the CEIP, and submitted a comment letter to the EPA on August 9, 2016. The template letter below may be used to submit comments for your Tribe.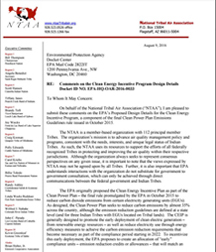 NTAA Comment Letter
Click HERE
for document.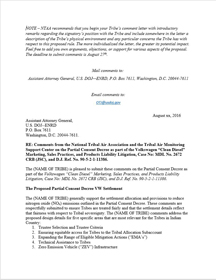 Tribal Template Letter
Click HERE
for document.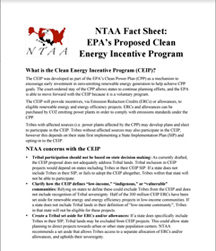 CEIP Factsheet
Click HERE
for document.

---