Policy Response Kits:
U.S. EPA's Regulatory Review under Executive Order 13777:
NTAA has prepared a Policy Response Kit for your Tribe to use in commenting to the U.S. EPA by May 15, 2017.
The U.S. EPA is seeking comments on regulatory reform based on Presidential EO 13777 signed by President Trump. EO 13777 directs federal agencies like EPA to review the Code of Federal Regulations and identify those regulations that:
Eliminate jobs or inhibit job creation, are outdated, unnecessary, or ineffective; Impose costs that exceed benefits; Create a serious inconsistency or otherwise interfere with regulatory reform initiatives and policies; Rely in whole or in part on data, information, or methods that are not publicly available or that are insufficiently transparent to meet the standard of reproducibility; Derive from or implement Executive Orders or other Presidential directives that have been subsequently rescinded or substantially modified.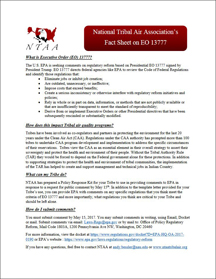 EO13777 Factsheet
Click HERE
for document.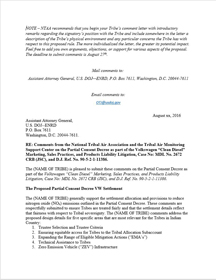 EO13777 Tribal Template Letter
Click HERE
for document.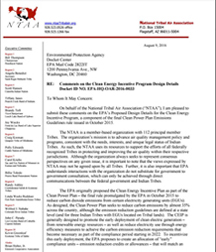 NTAA Comment Letter
Click HERE
for document.

---