Policy Resource Kits:
EPA's Draft Guidance Interpreting "Adjacent" for New Source Review and Title V Source Determinants in All Industries Other than Oil and Gas
On September 4, 2018, US Environmental Protection Agency (EPA) released draft guidance that would change the interpretation of "adjacency" used as a factor in determining whether to combine nearby stationary sources for the Clean Air Act New Source Review (NSR) permitting and Title V Source Determinates in All Industries other than oil and gas.[1] The New Source Review is a Clean Air Act program that requires industrial facilities to install modern pollution control equipment when they are building or when making a change that increases emissions significantly.[2] The Title V Operating Permit program requires major sources of air pollutants and certain other sources to obtain an operating permit and operate in compliance and certify at least annually their compliance with permit requirements. Permitting authorities use the following three factors to determine whether to combine facility emissions for permitting purposes:
1. Belong to the same industrial grouping (i.e. major standard industrial classification code)
2. Located on one or more contiguous or adjacent properties
3. Under the control of the same person (or persons under common control)
In previous years, EPA considered operations to be "adjacent" when they are nearby to one another as well as operations sharing "functional interrelatedness" even while separated by physical distance. The draft guidance would narrow the definition of "adjacency" when determining whether to combine nearby stationary sources for these permitting programs to "physical proximity" and exclude "functional interrelatedness" of sources. This new interpretation would apply to state, local, and tribal permitting authorities for Title V and NSR source determinations.
Comments were due into EPA by October 5, 2018.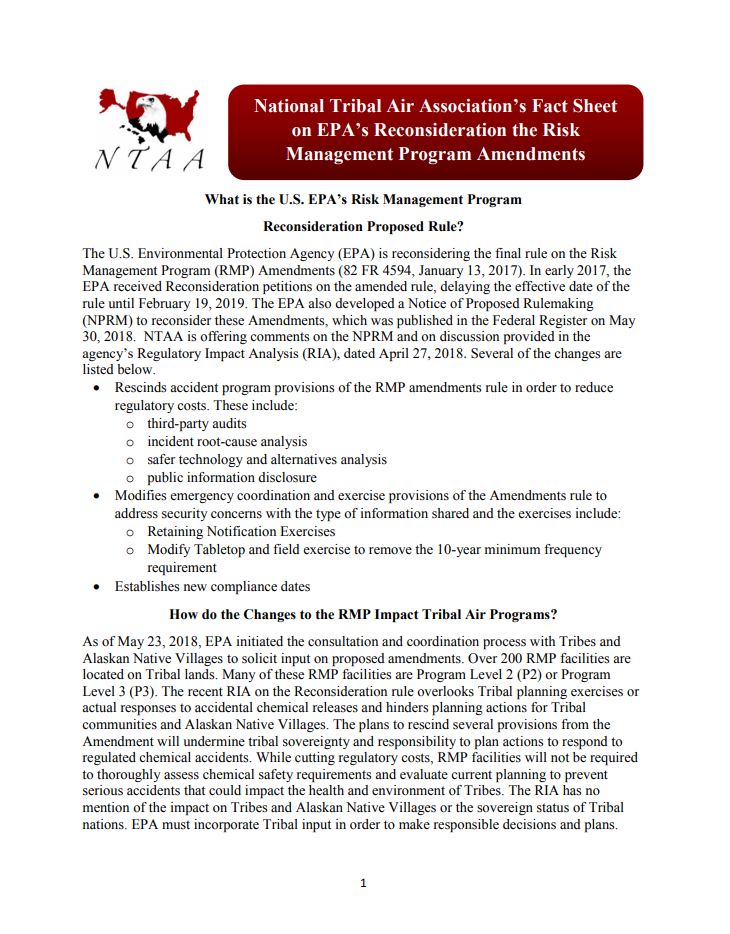 Draft Guidance Interpreting Adjacent Fact Sheet
Click HERE
for document.

Tribal Template Interpreting Adjacent Comment Letter
Click HERE
for document.

10.5.18. NTAA Comments on EPA Interpreting Adjacent for Source Determinations
Click HERE
for document.

---