Policy Resource Kits:
EPA's Risk Management Program Reconsideration Proposed Rule
The U.S. Environmental Protection Agency (EPA) is reconsidering the final rule on the Risk Management Program (RMP) Amendments (82 FR 4594, January 13, 2017). In early 2017, the EPA received Reconsideration petitions on the amended rule, delaying the effective date of the rule until February 19, 2019. The EPA also developed a Notice of Proposed Rulemaking (NPRM) to reconsider these Amendments, which was published in the Federal Register on May 30, 2018. NTAA is offering comments on the NPRM and on discussion provided in the agency's Regulatory Impact Analysis (RIA), dated April 27, 2018.
Submit your comments, identified by Docket ID No. [EPA-HQ-OEM-2015-0725], to the Federal eRulemaking Portal:
http://www.regulations.gov/
and follow the online instructions for submitting comments.
Comments must be received on or before August 23, 2018.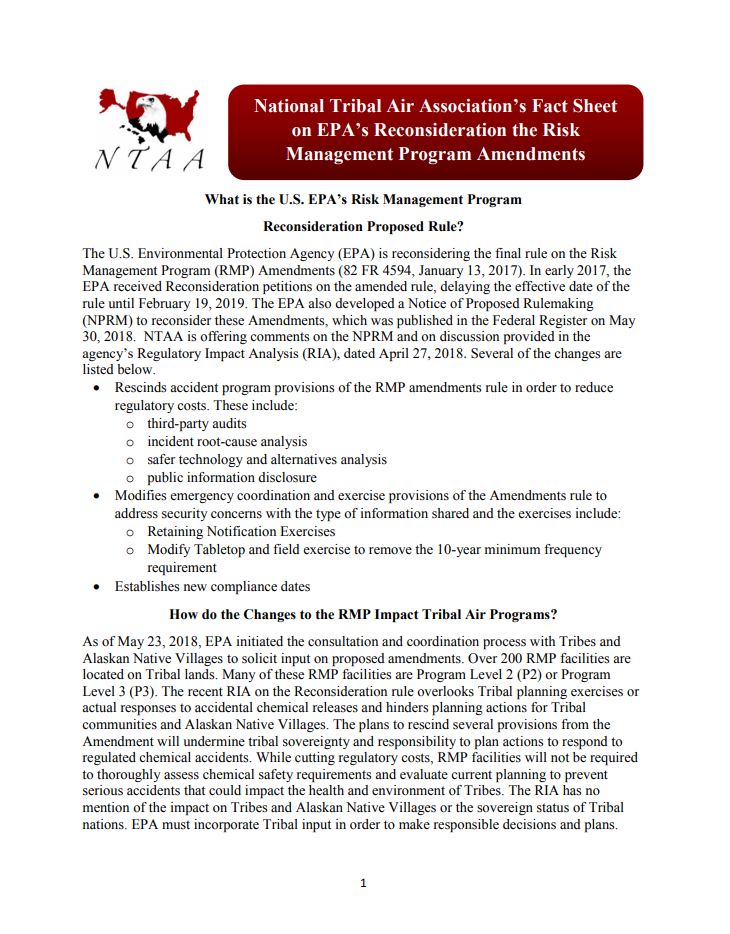 NTAA Fact Sheet on RMP 8.1.18
Click HERE
for document.

NTAA Comment Letter Submitted
Click HERE
for document.

NTAA Template Letter from Tribal Leader to EPA
Click HERE
for document.

---