NTAA: Resources

NTAA
PO Box 15004, Flagstaff, AZ 86011-5004
Phone: (928) 523-0526
Fax: (928) 523-1266
Andy.Bessler@nau.edu
NTAA Resources:
NTAA White Papers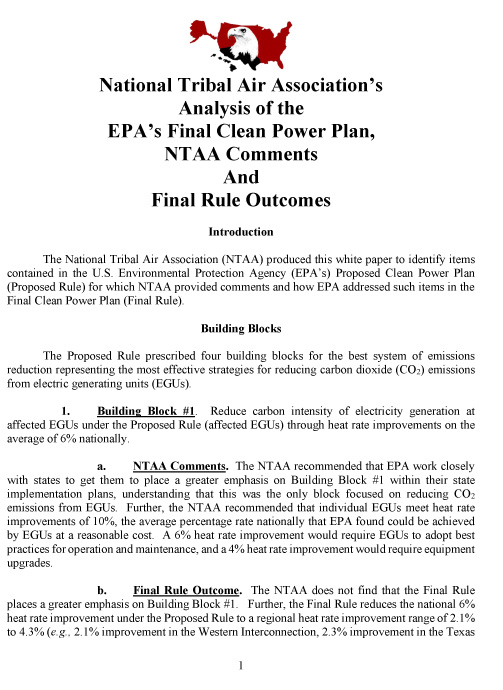 The National Tribal Air Association (NTAA) produced this white paper to identify items contained in the U.S. Environmental Protection Agency (EPA's) Proposed Clean Power Plan (Proposed Rule) for which NTAA provided comments and how EPA addressed such items in the Final Clean Power Plan (Final Rule).
Click HERE
for document.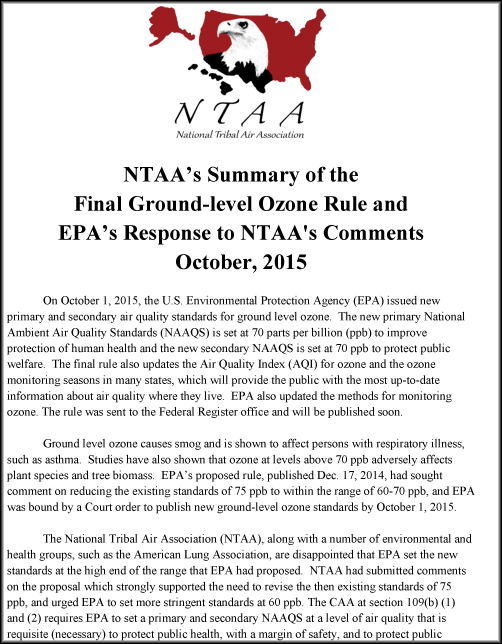 This white paper was written by NTAA PAC member Rich McAllister and explores the implications for Tribes of the final ground-level ozone rule issued by EPA in September of 2015.
Click HERE
for document.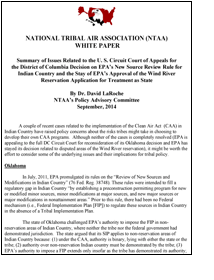 NTAA Policy Advisory Committee Member Dr. David LaRoche had penned a NTAA White Paper that explores recent legal decisions regarding Tribes and Clean Air Act's Treatment as a State provisions. The White Paper is titled,
"Summary of Issues Related to the U. S. Circuit Court of Appeals for the District of Columbia Decision on EPA's New Source Review Rule for Indian Country and the Stay of EPA's Approval of the Wind River Reservation Application for Treatment as State."
Click HERE
for document.

---