EPA National Resources:
Clean Power Plan Toolbox for States and Tribes
As co-regulators, states and tribes will develop plans to meet the guidelines in the
Clean Power Plan (CPP)
. The federal resources below provide information on state and tribe plan development and can help states and tribes determine the most cost-effective approaches to reducing greenhouse gas emissions from the power sector. Please note that inclusion of a measure in the toolbox does not mean that a state or tribe plan must include that measure. In addition, inclusion of these measures does not necessarily imply the approvability of an approach or method for use in a state or tribe plan. States and tribes will need to demonstrate that any measure included in a state or tribe plan meets all relevant criteria and adequately addresses elements of the plan components.
Click here
to vist the EPA's Clean Power Plan Toolbox for States and Tribes.
Click here to read the December 1st, 2014 Memorandum from EPA Administrator Gina McCarthy Commemorating the 30th Anniversary of the EPA's Indian Policy and Tribal Treaty Rights
EPA Policy on EJ for Working with Federally Recognized Tribes and Indigenous Peoples
Administrator McCarthy Signs Environmental Justice Policy for Working with Tribes and Indigenous Peoples on July 24th. 2014 reinforcing the agency's commitment to work with tribes on a government-to-government basis when issues of environmental justice arise.
All tribal and indigenous communities deserve environmental and public health protection. Through this policy, we are reinforcing our commitment to tribal communities, especially in addressing issues of Environmental Justice, said Administrator McCarthy.
Building on EPA's Plan EJ 2014, the policy integrates 17 environmental justice and civil rights principles. The plan also identifies existing informational and resource tools to support EPA in addressing environmental justice concerns raised by Federally Recognized Tribes and Indigenous Peoples throughout the United States. This policy was developed through tribal government consultations, meetings with state and tribal organizations and three public comment periods engaging indigenous communities and other stakeholders.
EPA Policy on Consultation and Coordination with Indian Tribes
On August 6, 2013, EPA's Designated Consultation Official Michelle DePass, Assistant Administrator for the Office of International & Tribal Affairs, transmitted EPA's annual progress report per President Obama's November 5, 2009 memorandum on tribal consultation to the Office of Management and Budget. The report describes EPA's progress under Executive Order 13175, Consultation and Coordination with Indian Tribal Governments.
The Tribal Consultation Opportunities Tracking System (TCOTS) publicizes upcoming and current EPA consultation opportunities for tribal governments. TCOTS allows users to view and sort information, and to submit comments on a tribal consultation. TCOTS is a key feature of
EPA's new Consultation and Coordination Policy with Indian Tribes (PDF)
(10 pp, 213K) that was released by Former Administrator Jackson on May 4, 2011. The goal of TCOTS is to provide early notification and transparency on EPA consultations with tribal governments.
November 8, 2014, marks 30 years of EPA's 1984 Indian Policy. EPA was the first to formally adopt such a Policy, articulating the importance of our tribal programs and our unique government-to-government relationship with tribes.
In addition to Administrator Gina McCarthy reaffirming the 1984 Indian Policy this past January, EPA is commemorating the work of our tribal programs through video, social media, and special events. For detailed information and to find out how you can engage, check out
EPA's Tribal Portal
.
U.S. EPA's Office of Air and Radiation (OAR) recognizes the important role that tribes have historically played in environmental issues including air quality
. Tribal citizens are often disproportionately affected by air pollution, while their governments play an increasingly valuable role in controlling and reducing pollution and its adverse health effects. OAR's national programs provide important air quality and health benefits to tribal communities while assisting the efforts of tribal governments. However our obligations to support tribes in addressing air quality goals extend beyond these national efforts to include tribal specific priorities. OAR created its annual Tribal Agenda in 2011 to reflect the specific actions we intend to take to directly support tribes in our joint efforts to reduce the health impacts of air pollution. This document discusses planned activities by OAR headquarter offices to support, expand and assist tribal implementation of air quality management activities nationwide in fiscal year (FY) 2014.
2014 OAR Tribal Air Agenda
2013 OAR Tribal Air Agenda
---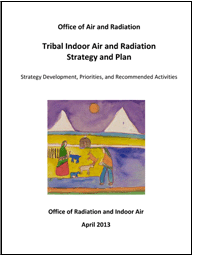 Tribal Indoor Air and Radiation Strategy and Plan
The U.S. EPA's Office of Air and Radiation recently published their Tribal Indoor Air and Radiation Strategy and Plan. The plan reflects the priorities of the Office of Air and Radiation (OAR), the Office of Radiation & Indoor Air (ORIA), and the needs and priorities as expressed by many of the Tribes. This plan will discuss ORIA's Tribal goals, and objectives and the specific activities that ORIA will conduct to meet them. This strategy and plan is considered a "living document."
Click HERE
for document.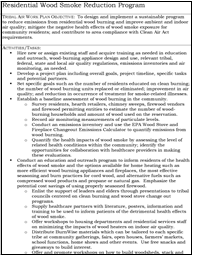 Tribal Wood Smoke Reduction Program Template
EPA Region 10 has produced a wood smoke reduction program guide developed for tribal use. Feel free make modifications to adapt it to your use, and share it with others who might find it useful. For more information, please contacts: Steve Scott
US EPA Region 10
1200 Sixth Avenue, Suite 900
OAWT-150
Seattle, WA 98101
206-553-0692
Click HERE
for document.

---