NTAA: Tribal Air

NTAA
PO Box 15004, Flagstaff, AZ 86011-5004
Phone: (928) 523-0526
Fax: (928) 523-1266
Andy.Bessler@nau.edu
Tribal Air Monitoring Support Center Resources:
In 1999, the Tribal Air Monitoring (TAMS) Center was created through a partnership between tribes, the Institute for Tribal Environmental Professionals (ITEP) and the United States Environmental Protection Agency (USEPA). It is the first technical training center designed specifically to meet the needs of tribes involved in air quality management and offers an array of training and support services to Tribal air professionals.
The TAMS Center provides technical training of tribal environmental professionals and technical assistance in obtaining and analyzing air quality data. Training sessions occur at scheduled 3-5 day workshops at the Virgil Masayesva Environmental Learning Center and on an individual request basis. The TAMS Center also provides gravimetric laboratory service for tribes conducting particulate sampling. Filters and the gravimetric analysis are provided to the tribes by the TAMS Center.
For more information about TAMS Center, please contact
:
TAMS Center
http://www4.nau.edu/tams/
702/784-8264
Darlene.Santos@nau.edu
---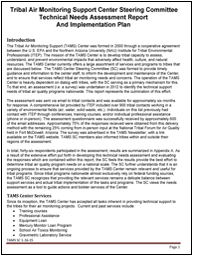 Tribal Air Monitoring Support Center Steering Committee Technical Needs Assessment Report And Implementation Plan
The TAMS Steering Committee (SC) began the process of determining the needs of Tribal air programs from across the county in 2012. The restructuring and subsequent discontinuance of the TAMS filter weighing service provided the impetus for this assessment. The SC also decide to gather information on what Tribal programs focus areas and support needs are at the same time. This assessment represents a coordinated effort by many people who were on and are now on the SC, as well as the TAMS Center Co-Directors and staff. Further the ex-officio members contributed their knowledge and expertise to the process. This SC Technical Needs Assessment Report and Implantation Plan truly represents the three partnerships the TAMS Center embodies.
Click HERE
for document.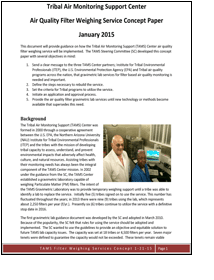 Air Quality Filter Weighing Service Concept Paper
Based on the outcomes of the Technical Needs Assessment Report and Implementation Plan the TAMS Steering Committee assigned a high priority to re-establishing the filter weighting service. The Concept paper provides a history of the service and the steps the SC identified to make it available again. The Filter Weighing Service Guidance document describes how the TAMS Center and SC expect to manage that service. Now all the TAMS Center partners will need to discuss this need, identify funding opportunities and initiate the service.
Click HERE
for document.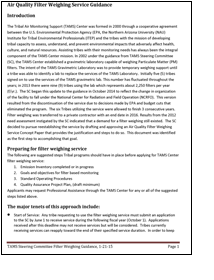 Air Quality Filter Weighing Service Guidance
Click HERE
for document.

---