Emergency Planning, Management, and Response
|
HAZWOPER
|
Research Individual Chemicals
|
Brownfields
|
Contaminated Sites
|
Superfund CERCLA
|
Solid & Haz Waste Regs
|
Federal Facilities
|
Tribal Environmental Law
|
Hazardous Materials Transport
|
Site Index
|
Home
Drums: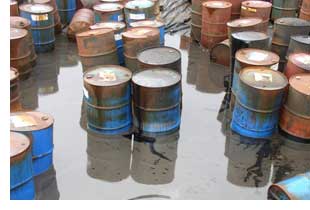 Abandoned and stockpiled containers, such as 55-gallon drums, may contain extremely hazardous materials. Therefore, evaluation of drum sites and drum characterization must be performed by properly trained personnel. Improperly stored and mislabeled drums and bulk containers may leak from rusted areas or become vandalized by people, causing contamination to air, land, and water.
Hazards include detonations, fire, explosions, vapor generation, and physical injury resulting from moving heavy containers by hand. Drums that have deteriorated, or been improperly stacked, may also present dangers to people working around them. While hazards are always present, proper work practices - such as minimizing handling and using equipment and procedures that isolate workers from hazardous substances - can minimize the risks to site personnel.
EPA's standard operating procedure for drum sampling
outlines the hazards of excavating, inspecting, staging, opening, and sampling drums of unknown substances. OSHA regulations (29 CFR Parts 1910 and 1926) include general requirements and standards for storing, containing, and handling chemicals and containers, and for maintaining equipment used for handling materials. EPA regulations (40 CFR Part 265) stipulate requirements for types of containers, maintenance of containers and containment structures, and design and maintenance of storage areas. DOT regulations (49 CFR Parts 171 through 178) also stipulate requirements for containers and procedures for shipment of hazardous wastes.
For more information, please contact:

Last updated: July 10, 2015