Emergency Planning, Management, and Response
|
HAZWOPER
|
Research Individual Chemicals
|
Brownfields
|
Contaminated Sites
|
Superfund CERCLA
|
Solid & Haz Waste Regs
|
Federal Facilities
|
Tribal Environmental Law
|
Hazardous Materials Transport
|
Site Index
|
Home
Hazardous Materials Transport: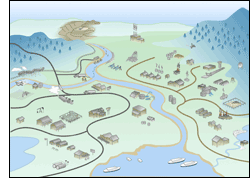 Tribal communities purchase, handle, package, store, and transport hazardous materials. This webpage has been developed to provide a summary of what training and regulations hazardous material employees should be aware of when preparing hazardous materials for transport. This information is not intended to take the place of US Department of Transportation (USDOT), US Department of Labor Occupational Safety and Health Administration (OSHA), or the US Environmental Protection Agency (USEPA) information and training for handling, packaging, storing, and transporting hazardous materials.
The Hazardous Materials Regulations (HMR) are issued by USDOT and govern the transportation of hazardous materials in interstate, intrastate, and foreign commerce. The primary goal of the USDOT Hazardous Materials Regulations are the safety of the public and those whom prepare hazardous materials for transportation or transport them. USDOT has issued specific requirements for shipments of hazardous materials in transportation.
Are you subject to the HMR?
Do you prepare, offer, and/or transport any hazardous materials(s) by motor vehicle, rail car, aircraft or vessel?
Do you manufacture, repair or recondition containers for the transportation of hazardous materials?
If you answered
"yes"
to one or both of the questions above, the HMR apply to you. You must comply with all aspects of the HMR, including training of hazmat employees (see Subpart H, §172.700). You may also be required to register with and pay a fee to the USDOT(see Subpart G, §107.601).
Recommendation: Read §171.1 and 171.2 of the HMR to determine how the regulations apply to you.
»
Hazardous Materials Regulations
Training
Any employee whose work directly affects hazardous materials transportation safety is required to have training. DOT provides online training to meet the requirements for general awareness/familiarization training here:
»
DOT Hazardous Materials Transportation Training Modules
Live Assistance
If you have a question about transporting hazardous materials or need clarification on an entry in the Hazardous Materials Regulations, the Pipeline and Hazardous Materials Safety Administration (PHMSA) Hazmat Information Center provides live, one-on-one assistance.
»
Hazardous Materials Information Center
The
Resource Conservation and Recovery Act (RCRA)
is the public law that creates the framework for the proper management of solid waste (e.g., garbage), hazardous waste, and underground storage tanks holding petroleum products or certain chemicals. The law describes the waste management program mandated by Congress that gave USEPA authority to develop the RCRA program. USEAP's mission is to protect human health and the environment. For more information on hazardous waste regulations go to ITEP's
Resource Conservation and Recovery Act
webpage.
The Occupational Safety and Health Administration (OSHA) has developed the
Hazardous Waste Operations and Emergency Response (HAZWOPER)
guidelines to train people who will handle, clean up hazardous waste and materials OR conduct operations involving hazardous wastes at treatment, storage, and disposal facilities regulated by Title 40 CFR Parts 264 and 265 pursuant to RCRA, or by agencies under agreement with EPA to implement RCRA regulations. OSHA's mission is to assure safe and healthful workplaces by setting and enforcing standards, and by providing training, outreach, education and assistance. For more information on the Hazardous Waste Operations and Emergency Response regulation go to ITEP's
Hazardous Waste and Emergency Response Training Requirements
webpage.
For more information, please contact:

Last updated: November 21, 2016