Emergency Planning, Management, and Response
|
HAZWOPER
|
Research Individual Chemicals
|
Brownfields
|
Contaminated Sites
|
Superfund CERCLA
|
Solid & Haz Waste Regs
|
Federal Facilities
|
Tribal Environmental Law
|
Hazardous Materials Transport
|
Site Index
|
Home
Mining: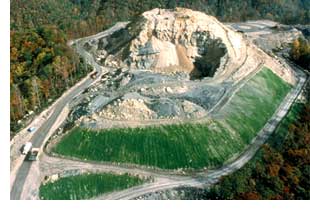 In 2004, mining sites contributed 52 percent of all hazardous waste sites located on, or next to, Tribal Lands. The commodities mined from these sites include, but are not limited to, gold, coal, sand and gravel, uranium, copper, and lead. Mining minerals from the earth requires three processes: extraction, beneficiation, and processing. Extraction is the removal of the ore from the earth. Beneficiation follows extraction and involves working the ore into a more useable form. Finally, mineral processing removes the desired mineral from the remaining ore. The extraction and beneficiation processes produce large quantities of waste; however, the mineral processing phase generally produces most of the hazardous waste. Mine wastes are generally stored in heaps or mounds and in tailings ponds.
Mining wastes pose a threat to communities in several ways. Leachate from tailings, acid drainage, and oxidization of heavy metals can be transported by surface runoff to streams and lakes or possibly contaminate the aquifer, thus contaminating human drinking water or harming aquatic life. Contaminated soil from heaps is often transported by wind and deposited to surrounding areas including residential property, public parks, surface water, etc.
EPA conducts and supervises investigation and cleanup actions at a variety of mine sites where hazardous substances have been released into the environment or when there is a threat of such releases of these substances. Cleanups may be done by EPA, other federal agencies, states or municipalities, or the company or party responsible for the contamination. Long-term (remedial) and short-term (removal) cleanup actions occur under the Comprehensive Environmental Response, Compensation, and Liability Act (CERCLA).
The EPA Abandoned Mine Lands (AML) Program is coordinated through the Agency's National Mining Team (NMT) and Abandoned Mine Lands Team (AMLT). These teams provide an EPA headquarters and Regional core of expertise on issues at abandoned mine sites. The teams together serve as a focal point for coordinating and facilitating national technical, policy and process issues with stakeholders on abandoned/inactive mine research, characterization, clean-up and redevelopment activities.
The goal of EPA's AML Program is to identify ways to protect human health and the environment by using all of the non-regulatory and regulatory approaches available to the Agency. The EPA AML program defines AMLs as: "Those lands, waters, and surrounding watersheds contaminated or scarred by extraction, beneficiation or processing of ores and minerals, including phosphate but not coal*. Abandoned mine lands include areas where mining or processing activity is temporarily inactive."
*Although acid mine drainage/acid rock drainage caused by coal mining commonly results in significant environmental impacts, Congress has designated the Department of the Interior's Office of Surface Mining as the Federal authority responsible for addressing these coal mining contamination problems.
For more information, please contact:

Last updated: July 10, 2015