Emergency Planning, Management, and Response
|
HAZWOPER
|
Research Individual Chemicals
|
Brownfields
|
Contaminated Sites
|
Superfund CERCLA
|
Solid & Haz Waste Regs
|
Federal Facilities
|
Tribal Environmental Law
|
Hazardous Materials Transport
|
Site Index
|
Home
Salvage Yard: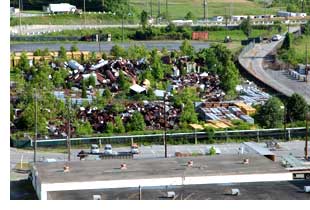 Salvage yards, otherwise known as scrap yards and junkyards, are most commonly used for salvaging a variety of scrap metal, including appliances, automobiles, railroad cars, and government surplus vehicles. However, some salvage yards will contain other items such as furniture, tires, batteries, and have been known to accept electric transformers and drums from industrial waste in the past.
Accidental spills and releases of vehicle fluids are the most common cause of environmental damage found at automobile salvage yards. Spills can occur if fluids are left in the vehicle when stored in the yard, when the fluids are intentionally removed from the vehicle, and when fluids are transferred into or out of storage containers and tanks.
Potential impacts from salvage yards may arise from storm water runoff discharges. Organic compounds that are present in petroleum products such as oil and gasoline are not only chemically toxic to aquatic life and humans, but also deplete oxygen in surface waters due to their biodegradability, further impacting aquatic life and water quality. When rain or flooding occurs, pollutants can be washed from the salvage yards and carried onto abutting properties and into rivers, streams, and lakes. The resources listed below contain many pollution prevention strategies and best management practices for salvage yards.
For more information, please contact:

Last updated: July 10, 2015