From the Desk of the Chair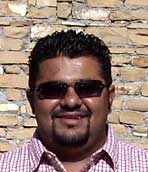 On behalf of the Tribal Waste and Response Steering Committee I would like to welcome you to our new website.
My name is Arvind Patel and I am an employee of the Pueblo of Acoma. I have worked for the Pueblo of Acoma for more than 13 years and I like many, have worn many hats over those years within the Environmental Office, Engineering Office and now Utilities and Solid Waste. I am an Environmental Engineer and have spent all of my time prior to working with the Pueblo of Acoma in the environmental consulting and remediation industry helping to assess and cleanup sites ranging from small sites/issues to Superfund sites. This is my fourth year on the Steering Committee and I'm honored to advocate on behalf of the tribal environmental issues with the rest of my Committee members.
The Steering Committee develops, on an annual basis, a Priorities Document. The purpose of this document is to communicate the evolving needs and priorities of Native American and Alaskan Native village as it relates to the programs within OLEM. This document is then shared with OLEM, the National Tribal Caucus, other EPA Partnership Groups, and the environmental community to use for discussion and transformation of environmental policy and programmatic change.
The Steering Committee meets annually with the leadership of US EPA's OLEM to discuss the Priorities Document and how the recommendations laid out in the document are being addressed.
We also provide position and comment to other environmental issues that come up from time to time and we work collaboratively with the National Tribal Superfund Working Group and their Advisory Committee to assist with the advocacy that is needed within that specific arena.
Finally, the Steering Committee assists ITEP with the planning and coordination of the Tribal Lands Environmental Forum (TLEF), a national conversation on Tribal land and water resources. The TLEF is the largest gathering of Tribal environmental professionals and regulator partners. For the past few years we have had over 500 tribal environmental professional attendees and we expect that to increase in the future. The 2018 TLEF will be held in Spokane, Washington August 13-16. We hope to see you there.
Welcome and continue to be involved.
Sincerely,

Arvind Patel, Chair
Tribal Waste and Response Steering Committee