Emergency Planning, Management, and Response
|
HAZWOPER
|
Research Individual Chemicals
|
Brownfields
|
Contaminated Sites
|
Superfund CERCLA
|
Solid & Haz Waste Regs
|
Federal Facilities
|
Tribal Environmental Law
|
Hazardous Materials Transport
|
Site Index
|
Home
Mercury: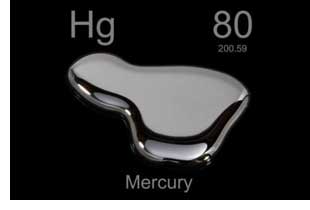 Mercury is a naturally occurring metal that has elemental (metallic), inorganic, and organic forms. Elemental mercury is released into the air from combustion of fossil fuels (primarily coal). Coal-burning power plants are the largest human-caused source of mercury emissions to the air in the U.S., accounting for over 50 percent of all domestic human-caused mercury emissions. Small amounts of mercury compounds are manufactured in the U.S. for specialty uses such as chemical and pharmaceutical applications. Larger quantities of these compounds are generated as byproducts from pollution control activities at gold mines or in waste. Elemental mercury is processed in the U.S. from byproduct mercury compounds, and an unknown quantity of mercury compounds is imported into the U.S. for conversion to elemental mercury.
Burning solid and hazardous wastes (which produces chlorine), as well as the improper treatment and disposal of wastes containing mercury, can also release it into the environment. Mercury in the air eventually settles into water or onto land where it can be washed into water. Once deposited, microorganisms change elemental mercury into methylmercury. The most common way we are exposed to mercury is by eating fish or shellfish that are contaminated with mercury.
People may be exposed to metallic mercury when glass thermometers or other products containing mercury, such as fluorescent bulbs, are broken or when mercury is brought into the home from schools, abandoned industrial sites, or other sites where it may be stored. Metallic mercury evaporates into the air at room temperature and the vapors will accumulate indoors. Breathing mercury vapors in the air is the source of entry of metallic mercury into the human body, therefore, it is important to promptly and properly clean up and dispose of mercury.
For more information, please contact:

Last updated: July 10, 2015