Emergency Planning, Management, and Response
|
HAZWOPER
|
Research Individual Chemicals
|
Brownfields
|
Contaminated Sites
|
Superfund CERCLA
|
Solid & Haz Waste Regs
|
Federal Facilities
|
Tribal Environmental Law
|
Hazardous Materials Transport
|
Site Index
|
Home
Oil Spill Prevention: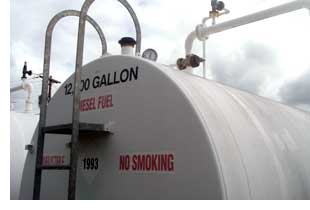 Most oil spills are small and preventable and many are accidental. Therefore, it is important to educate the community about small spills as well as preparing plans and staging equipment for potential large spills. Being prepared for potential oil spills in your community can prevent costly cleanups by minimizing the release. Preparedness can include many things such as community education, surveys of tanks and other storage areas, staging oil spill response equipment, and developing environmental sensitivity maps, local knowledge guides, and area contingency plans.
Oil Pollution Prevention regulation requires
specific non-transportation-related facilities to develop and implement Spill Prevention, Control, and Countermeasure (SPCC) plans to prevent oil discharges to navigable waters and adjoining shorelines, and
some oil storage facilities to prepare Facility Response Plans, plans to respond to a worst-case discharge of oil and to a substantial threat of such a discharge.
The National Oil and Hazardous Substances Pollution Contingency Plan, more commonly called the National Contingency Plan or NCP, is the federal government's blueprint for responding to both oil spills and hazardous substance releases. The National Contingency Plan is the result of our country's efforts to develop a national response capability and promote overall coordination among the hierarchy of responders and contingency plans.
Workers must be trained to the HIGHEST LEVEL of responsibility that they may be assigned in response to a spill. Please go to the following link for more detail on emergency response training requirements:
Hazardous Waste and Emergency Response Training Requirements
For more information, please contact:

Last updated: July 10, 2015