Emergency Planning, Management, and Response
|
HAZWOPER
|
Research Individual Chemicals
|
Brownfields
|
Contaminated Sites
|
Superfund CERCLA
|
Solid & Haz Waste Regs
|
Federal Facilities
|
Tribal Environmental Law
|
Hazardous Materials Transport
|
Site Index
|
Home
Underground Storage Tanks: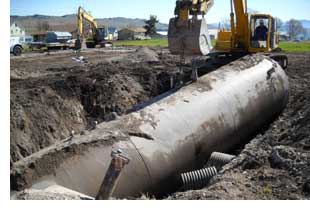 Underground Storage Tanks (USTs) are tanks or connective piping that have at least 10% of its volume below ground. UST's are potentially harmful because they can seep through the ground to the aquifer below, which may provide drinking water to the surrounding community. Rural communities are especially at risk due to a large reliance on groundwater as the primary drinking water source.
Petroleum products are the most common types of contaminants stored in UST's. Examples of these include diesel tanks on farms and gas stations. Hazardous substances may also be stored in UST's.
The following types of tanks do not have to meet
federal UST regulations
:
Farm and residential tanks of 1,100 gallons or less capacity holding motor fuel used for noncommercial purposes;


Tanks storing heating oil used on the premises where it is stored;


Tanks on or above the floor of underground areas, such as basements or tunnels;


Septic tanks and systems for collecting storm water and wastewater;


Flow-through process tanks;


Tanks of 110 gallons or less capacity; and


Emergency spill and overfill tanks.
Leaking underground storage tanks (LUST) are very common.
For more information, please contact:

Last updated: July 10, 2015