Emergency Planning, Management, and Response
|
HAZWOPER
|
Research Individual Chemicals
|
Brownfields
|
Contaminated Sites
|
Superfund CERCLA
|
Solid & Haz Waste Regs
|
Federal Facilities
|
Tribal Environmental Law
|
Hazardous Materials Transport
|
Site Index
|
Home
Household Hazardous Waste: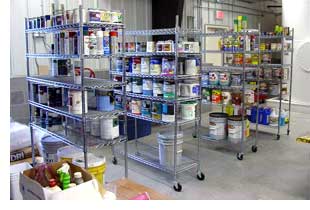 Household hazardous wastes (HHW) are common household items that contain corrosive, toxic, ignitable, or reactive ingredients and should be handled, stored, and disposed of properly.
Corrosive - Eats away substances - cloth, metals and skin.
Acids and caustics - Battery acid, Pool chemicals, Toilet/drain cleaners
Flammable - Ignites easily.
Gasoline - Lighter fluids - Motor oil, Paint thinner, Propane cylinders
Reactive - Creates explosion or deadly fumes.
Ammonia and Bleach mix, Chlorine - Fertilizers, Cyanides
Toxic - Poisonous or lethal when swallowed, touched or inhaled.
Antifreeze - Pesticides, Rat poison - Weed killers
Cleaners, batteries, paint, oils, electronics, and fluorescent lights are examples of HHW. When used or disposed of improperly these products are a source of potential harm to our bodies and/or the environment. Contaminants from HHW can include cadmium, mercury, lead, benzene, ethylene glycol, and polychlorinated biphenyls (PCBs).
Warning labels, such as poison, danger, and caution, identify products that are hazardous when used improperly. However, there are many products in our homes that do not have warning labels that may contain hazardous materials when broken or disposed of improperly. For example, fluorescent lights, thermostat and appliance switches, batteries, children's shoes that light up, and thermometers all contain mercury. Electronics contain many heavy metals that can contaminate the groundwater or air if illegally dumped or burned.
The local hazardous waste management program in King County, Washington has developed an extensive list of household hazardous products available at their
website
. The rollover information describes how to dispose of these items in their community and the link on each product provides information on potential hazards and safer alternatives.
For more information, please contact:

Last updated: July 10, 2015