Services
US EPA - TAMS Center
4220 S Maryland Parkway Bldg C
Las Vegas, NV 89119
Phone: 702-784-8264
Fax: 702-784-8201
---
Ambient Air Quality
Back to:
Equipment loans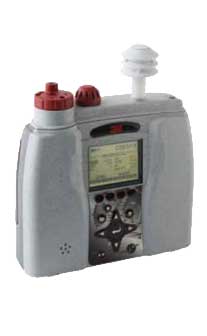 3M EVM-3 Environmental Monitor
Ambient Air Monitor
The EVM is a portable-area monitoring instrument using a selectable impactor with four settings: 2.5 μm, 4 μm, 10 μm, or none (100 μm). Once the impactor setting is selected, the EVM collects (or measures) real-time aerosol/dust concentrations using a 90º optical light scattering photometer to determine the total mass concentration (in units of mg / m3) of particulate matter. Additionally, gravimetric sampling, a more accurate method, can also be used. The unit can be operated for 8 hours using an internal rechargeable battery.
Quanity: TBD
For equipment availability, please contact:
Farshid Farsi
US EPA - TAMS Center
4220 S. Maryland Parkway, Bldg C
Las Vegas, NV 89119
702-784-8263
Farsi.Farshid@epa.gov
POLLUTANTS MONITORED
MANUFACTURER RECOMMENDED USES
TECHNICAL DOCUMENTS

PM 2.5
PM 4.0
PM 10
PM 100 (none)

Area monitoring
Spot Checking




---
For technical equipment support and troubleshooting, please contact:
If you would like to view tribal examples of quality assurance project plans, standard operating procedures or other technical supporting documents, please visit:
www.datatools.tamscenter.com
.
---