Services
US EPA - TAMS Center
4220 S Maryland Parkway Bldg C
Las Vegas, NV 89119
Phone: 702-784-8264
Fax: 702-784-8201
---
Ambient Air Quality
Back to:
Equipment loans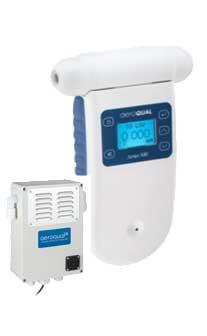 AeroQual500 Ozone Monitor
Ambient Air Monitor
The Series 500 monitor from AeroQual is a feature-rich portable monitor with the ability to accurately measure ozone. Built-in data-logging and a long-life, fast-charging lithium battery makes the Series 500 the ultimate choice for air quality professionals. Connect direct to PC via USB using free PC software Windows 7, 8, XP compatible) By adding the optional outdoor enclosure can be left in situ for short term monitoring. This monitor is neither FEM nor FRM.
Quanity: 3
For equipment availability, please contact:
Farshid Farsi
US EPA - TAMS Center
4220 S. Maryland Parkway, Bldg C
Las Vegas, NV 89119
702-784-8263
Farsi.Farshid@epa.gov
POLLUTANTS MONITORED
MANUFACTURER RECOMMENDED USES
TECHNICAL DOCUMENTS

Wide area air quality surveys
Checking pollution "hotspots"
Short term fixed monitoring networks




---
For technical equipment support and troubleshooting, please contact:
If you would like to view tribal examples of quality assurance project plans, standard operating procedures or other technical supporting documents, please visit:
www.datatools.tamscenter.com
.
---