Services
US EPA - TAMS Center
4220 S Maryland Parkway Bldg C
Las Vegas, NV 89119
Phone: 702-784-8264
Fax: 702-784-8201
---
Ambient Air Quality
Back to:
Equipment loans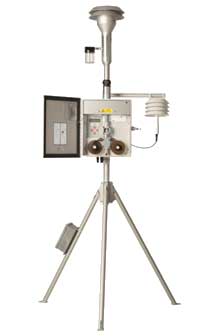 Met One E-BAM
Ambient Air Monitor
Although not FRM or FEM, the E-BAM automatically measures and records airborne PM10 or PM2.5 particulate concentration levels in milligrams per cubic meter of air. The E-Bam is designed as a simple, compact, and self-contained beta gauge, for portable applications (AC power source is required) where rapid deployment and short interval real time measurements are required. The E-BAM is not intended for permanent, long-term installations at a fixed monitoring site.
Quanity: 3
For equipment availability, please contact:
Farshid Farsi
US EPA - TAMS Center
4220 S. Maryland Parkway, Bldg C
Las Vegas, NV 89119
702-784-8263
Farsi.Farshid@epa.gov
POLLUTANTS MONITORED
MANUFACTURER RECOMMENDED USES
TECHNICAL DOCUMENTS

Rapid Deployment
Short interval real-time measurements
Tracking smoke and ash plumes from wildfires, prescribed burns, agricultural burns, volcanic activity
Emergency response situations
Micro to neighborhood scale particulate studies
Confined sampling locations (i.e. tunnels, mines, quarries, shopping malls, train stations)



---
For technical equipment support and troubleshooting, please contact:
If you would like to view tribal examples of quality assurance project plans, standard operating procedures or other technical supporting documents, please visit:
www.datatools.tamscenter.com
.
---