Services
US EPA - TAMS Center
4220 S Maryland Parkway Bldg C
Las Vegas, NV 89119
Phone: 702-784-8264
Fax: 702-784-8201
---
Ambient Air Quality
Back to:
Equipment loans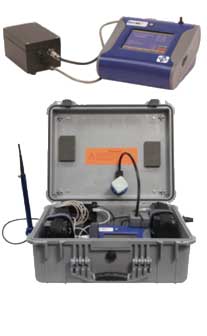 TSI DustTrakII Model 8530EP
Ambient Air Monitor
The DUSTTRAK II Aerosol Monitors are battery-operated, data-logging, light-scattering laser photometers that give you real-time aerosol mass readings. They use a sheath air system that isolates the aerosol in the optics chamber to keep the optics clean for improved reliability and low maintenance. Suitable for clean office settings as well as harsh industrial workplaces, construction and environmental sites and other outdoor applications (using the Environmental Enclosure 8335). DUSTTRAK II monitors measure aerosol contaminants such as dust, smoke, fumes and mists.
Quanity: TBD
For equipment availability, please contact:
Farshid Farsi
US EPA - TAMS Center
4220 S. Maryland Parkway, Bldg C
Las Vegas, NV 89119
702-784-8263
Farsi.Farshid@epa.gov
POLLUTANTS MONITORED
MANUFACTURER RECOMMENDED USES
TECHNICAL DOCUMENTS

PM 10
PM 4.0
PM 2.5
PM 1.0

Indoor air quality investigations
Outdoor environmental monitoring (Environmental Enclosure 8535)
Baseline trending and screening
Point source monitoring
Remote monitoring
Process monitoring
Emissions monitoring




---
For technical equipment support and troubleshooting, please contact:
If you would like to view tribal examples of quality assurance project plans, standard operating procedures or other technical supporting documents, please visit:
www.datatools.tamscenter.com
.
---