Services
US EPA - TAMS Center
4220 S Maryland Parkway Bldg C
Las Vegas, NV 89119
Phone: 702-784-8264
Fax: 702-784-8201
---
Calibration (NIST Traceable)
Back to:
Equipment loans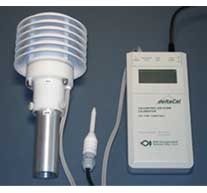 BGI deltaCal Field Audit Calibrator
Calibration Equipment
The BGI deltaCal is an EPA FRM compatible flow audit device, based on the air flow measurement principle of the venturi1. It provides a LCD indication of volumetric and standard flow rate, barometric pressure, ambient temperature and a filter temperature probe. It operates on four AA alkaline energy cells (batteries).The electronics are all housed in the control module.
Quanity: TBD
For equipment availability, please contact:
Farshid Farsi
US EPA - TAMS Center
4220 S. Maryland Parkway, Bldg C
Las Vegas, NV 89119
702-784-8263
Farsi.Farshid@epa.gov
| POLLUTANTS MONITORED | MANUFACTURER RECOMMENDED USES | TECHNICAL DOCUMENTS |
| --- | --- | --- |
| | | |
---
For technical equipment support and troubleshooting, please contact:
If you would like to view tribal examples of quality assurance project plans, standard operating procedures or other technical supporting documents, please visit:
www.datatools.tamscenter.com
.
---