Services
US EPA - TAMS Center
4220 S Maryland Parkway Bldg C
Las Vegas, NV 89119
Phone: 702-784-8264
Fax: 702-784-8201
---
Calibration (NIST Traceable)
Back to:
Equipment loans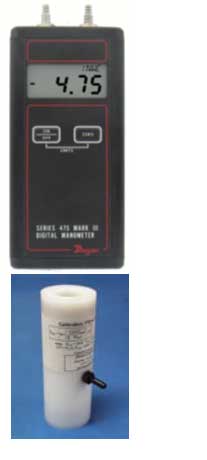 Flow Transfer Standard (FTS) with Manometer
Calibration Equipment
Streamline™ FTS flow meters are certified against NIST traceable Critical Flow Venturis. While units are typically calibrated 5-20 lpm, the SERIES 475 Mark III Handheld Digital Manometer measures positive, negative, or differential pressures of air and natural gases in ranges from 1 in w.c. (0.249 kPa) to 150 psid (10.34 bar). The dual push pads on the front panel control the on/off, auto zero, and pressure unit selection, allowing for simple operation with no set up needed.
Quanity: TBD
For equipment availability, please contact:
Farshid Farsi
US EPA - TAMS Center
4220 S. Maryland Parkway, Bldg C
Las Vegas, NV 89119
702-784-8263
Farsi.Farshid@epa.gov
| POLLUTANTS MONITORED | MANUFACTURER RECOMMENDED USES | TECHNICAL DOCUMENTS |
| --- | --- | --- |
| | | |
---
For technical equipment support and troubleshooting, please contact:
If you would like to view tribal examples of quality assurance project plans, standard operating procedures or other technical supporting documents, please visit:
www.datatools.tamscenter.com
.
---