Services
US EPA - TAMS Center
4220 S Maryland Parkway Bldg C
Las Vegas, NV 89119
Phone: 702-784-8264
Fax: 702-784-8201
---
Indoor Air Quality
Back to:
Equipment loans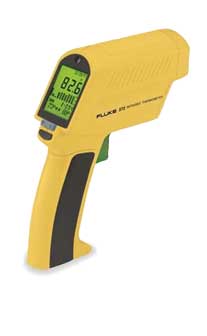 Fluke 572 IR Thermometer
Indoor Air Quality Monitor
The Fluke 572 handheld infrared thermometer measures surface temperatures, helping to quickly locate lubrication problems, overloads, short-circuits or misaligned and overheated equipment, reducing work and follow-up time, and improving performance. From close-up electrical connections, to distant room balancing checks, the Fluke 572 handheld infrared thermometer can take IR temperature measurements with ease.
Quanity: TBD
For equipment availability, please contact:
Farshid Farsi
US EPA - TAMS Center
4220 S. Maryland Parkway, Bldg C
Las Vegas, NV 89119
702-784-8263
Farsi.Farshid@epa.gov
| POLLUTANTS MONITORED | MANUFACTURER RECOMMENDED USES | TECHNICAL DOCUMENTS |
| --- | --- | --- |
| | | |
---
For technical equipment support and troubleshooting, please contact:
If you would like to view tribal examples of quality assurance project plans, standard operating procedures or other technical supporting documents, please visit:
www.datatools.tamscenter.com
.
---