Services
US EPA - TAMS Center
4220 S Maryland Parkway Bldg C
Las Vegas, NV 89119
Phone: 702-784-8264
Fax: 702-784-8201
---
Indoor Air Quality
Back to:
Equipment loans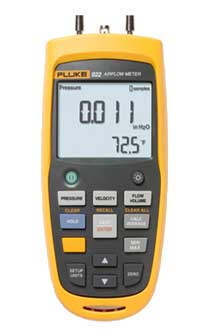 Fluke 922 Air Flow Meter
Indoor Air Quality Monitor
The Fluke 922 makes airflow measurements easy by combining three tools: differential pressure, airflow, and velocity into a single, rugged meter. Measure pressure drops across key HVAC equipment to drive peak performance and extend equipment life. Match ventilation to occupant loads. Monitor indoor vs. outdoor pressure relationships and manage the building envelope. Promote indoor comfort and quality. Perform duct traversals for accurate airflow readings.
Quanity: TBD
For equipment availability, please contact:
Farshid Farsi
US EPA - TAMS Center
4220 S. Maryland Parkway, Bldg C
Las Vegas, NV 89119
702-784-8263
Farsi.Farshid@epa.gov
| POLLUTANTS MONITORED | MANUFACTURER RECOMMENDED USES | TECHNICAL DOCUMENTS |
| --- | --- | --- |
| | | |
---
For technical equipment support and troubleshooting, please contact:
If you would like to view tribal examples of quality assurance project plans, standard operating procedures or other technical supporting documents, please visit:
www.datatools.tamscenter.com
.
---