Services
US EPA - TAMS Center
4220 S Maryland Parkway Bldg C
Las Vegas, NV 89119
Phone: 702-784-8264
Fax: 702-784-8201
---
Indoor Air Quality
Back to:
Equipment loans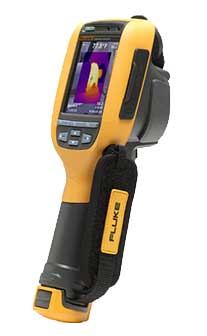 Fluke TiR105 Thermal Imager
Indoor Air Quality Monitor
The Fluke TiR105 Thermal Imager is a handheld, infrared imaging camera. The TiR105 is optimized for building inspection and diagnostics applications. The Imager displays thermal images on a high-visibility LCD screen and can save images to an SD memory card. Saved images and data can be transferred to a PC via the SD memory card or by a direct USB connection to the PC. Infrared images display in different color palettes from -20 °C to +150 °C. A rugged, rechargeable lithium-ion smart battery provides power to the Imager. Direct AC power is accessible with the included AC power adapter.
Quanity: TBD
For equipment availability, please contact:
Farshid Farsi
US EPA - TAMS Center
4220 S. Maryland Parkway, Bldg C
Las Vegas, NV 89119
702-784-8263
Farsi.Farshid@epa.gov
POLLUTANTS MONITORED
MANUFACTURER RECOMMENDED USES
TECHNICAL DOCUMENTS

IAQ Studies
Equipment troubleshooting
Preventive and predictive maintenance
Building diagnostics




---
For technical equipment support and troubleshooting, please contact:
If you would like to view tribal examples of quality assurance project plans, standard operating procedures or other technical supporting documents, please visit:
www.datatools.tamscenter.com
.
---