Services
US EPA - TAMS Center
4220 S Maryland Parkway Bldg C
Las Vegas, NV 89119
Phone: 702-784-8264
Fax: 702-784-8201
---
Indoor Air Quality
Back to:
Equipment loans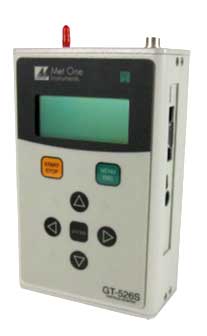 Met One GT-526s Particle Counter
Indoor Air Quality Monitor
The GT-526S is a full–featured, six-channel, battery operated, handheld particle counter. The GT-526S has six count channels that can be configured to factory calibrated standard sizes or user defined custom sizes. It also has two alarm limits and various communication options. This instrument can store up to 8,000 sample events including data from the optional temperature / relative humidity probe (PN G3120). Sample history events can be viewed on the LCD display or downloaded to a computer.
Quanity: TBD
For equipment availability, please contact:
Farshid Farsi
US EPA - TAMS Center
4220 S. Maryland Parkway, Bldg C
Las Vegas, NV 89119
702-784-8263
Farsi.Farshid@epa.gov
POLLUTANTS MONITORED
MANUFACTURER RECOMMENDED USES
TECHNICAL DOCUMENTS

Indoor Air Quality
Emission Sourcing
Remote Sampling




---
For technical equipment support and troubleshooting, please contact:
If you would like to view tribal examples of quality assurance project plans, standard operating procedures or other technical supporting documents, please visit:
www.datatools.tamscenter.com
.
---