Services
US EPA - TAMS Center
4220 S Maryland Parkway Bldg C
Las Vegas, NV 89119
Phone: 702-784-8264
Fax: 702-784-8201
---
Indoor Air Quality
Back to:
Equipment loans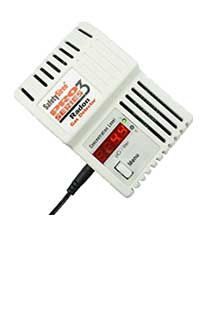 Safety Siren Pro Series3 Radon Gas Detector
Indoor Air Quality Monitor
The Safety Siren Pro Series 3 is an electronic and digital radon gas detector, designed specifically for home use by homeowners. It's an affordable solution for ensuring maximum safeguard of your home's environment. This device is made for monitoring the radon level in home with an easy-to-read digital display. It displays short term and/or long term average readings. It's a small and re-usable electronic device which is a must-have item. When the level of radon becomes too high (above 4 pCi/L), the detector triggers an audible alarm sound leaving no scope for negligence.
Quanity: TBD
For equipment availability, please contact:
Farshid Farsi
US EPA - TAMS Center
4220 S. Maryland Parkway, Bldg C
Las Vegas, NV 89119
702-784-8263
Farsi.Farshid@epa.gov
| POLLUTANTS MONITORED | MANUFACTURER RECOMMENDED USES | TECHNICAL DOCUMENTS |
| --- | --- | --- |
| | Radon Monitoring in homes | |
---
For technical equipment support and troubleshooting, please contact:
If you would like to view tribal examples of quality assurance project plans, standard operating procedures or other technical supporting documents, please visit:
www.datatools.tamscenter.com
.
---