Services
US EPA - TAMS Center
4220 S Maryland Parkway Bldg C
Las Vegas, NV 89119
Phone: 702-784-8264
Fax: 702-784-8201
---
Indoor Air Quality
Back to:
Equipment loans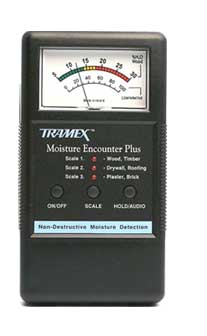 Tramex Moisture Meter Non-Destructive
Indoor Air Quality Monitor
The Tramex MEP Moisture Encounter Plus is a non-destructive overall building inspection moisture meter which has applications for numerous industries. It has many unique features that make moisture measurement and evaluation fast, precise and versatile. Wide range of readings for wood from 5% to 30%. Deep signal penetration to over 1" into the materials being tested without the need to damage the surface. Three ranges of sensitivity: Wood & Timber / Drywall & Roofing / Plaster & Brick – making it ideal for testing moisture conditions in various building materials. Detects moisture through paint, wall coatings, drywall, ceramic tiles, floor coverings, wood, roof coverings and ceiling tiles. High moisture audio warning tone.
Quanity: TBD
For equipment availability, please contact:
Farshid Farsi
US EPA - TAMS Center
4220 S. Maryland Parkway, Bldg C
Las Vegas, NV 89119
702-784-8263
Farsi.Farshid@epa.gov
| POLLUTANTS MONITORED | MANUFACTURER RECOMMENDED USES | TECHNICAL DOCUMENTS |
| --- | --- | --- |
| | | |
---
For technical equipment support and troubleshooting, please contact:
If you would like to view tribal examples of quality assurance project plans, standard operating procedures or other technical supporting documents, please visit:
www.datatools.tamscenter.com
.
---