About Us:

PO Box 15004, Flagstaff, AZ 86011-5004
Phone: (928) 523-9555
Fax: (928) 523-1266
itep@nau.edu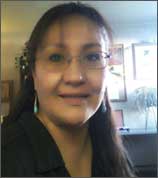 Sharlene Brown
Administrative Assistant
Sharlene Brown
Sharlene has been working at ITEP as an Administrative Assistant for the American Indian Air Quality Training Program since February 2004. She is from the Navajo Tribe and originally from Many Farms, AZ. Her maternal clan is Bitter Water and paternal clan is Two Rocks Sit Together. She received her Associates degree in Secretarial Science from Haskell in 1989. Ms. Brown has been living in Flagstaff with her kids since 1996.

Sharlene can be reached by e-mail at Sharlene.Brown@nau.edu.
About Us
>
Team Members
>
Sharlene Brown
---