Volkswagen Settlement:

PO Box 15004, Flagstaff, AZ 86011-5004
Fax: (928) 523-1266
itep@nau.edu
Introduction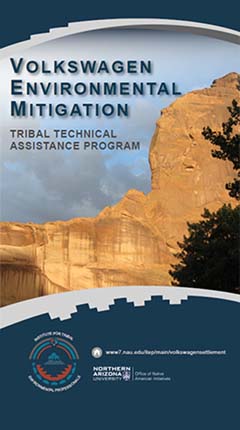 Welcome to ITEP's VW Settlement web page, where you can learn about the VW Settlement and how to access funds to pay for projects to replace eligible diesel vehicles and improve the air quality on your Tribal homelands. ITEP was named in the settlement as the Technical Assistance Provider, and in addition to the information presented on these web pages, we provide webinars and other training resources, as well as one-on-one assistance with navigating the process of applying for and receiving funds from the settlement.
VW Settlement and the Tribal Trust
In 2015 Volkswagen was cited by the U.S. Environmental Protection Agency and the California Air Resources Board for violating emissions standards by selling diesel vehicles equipped with "defeat devices." These devices allowed the cars to pass federal emissions tests, but during actual driving conditions they emitted significantly more air pollutants than allowed by the Clean Air Act. The federal government sued the company, and in 2016 VW settled the cases for $14.7 billion.
As part of the settlement, $2.8 billion was set aside for states and Tribes to fund diesel emission mitigation projects. $55 million of this money is earmarked for Tribes, in a trust called the "Volkswagen Diesel Emissions Environmental Mitigation Trust for Indian Tribe Beneficiaries," or just the "Tribal Trust." Any federally recognized Tribe can apply for funding from the Tribal Trust, which they can use to replace old, polluting diesel vehicles or equipment with new, cleaner models, or even install electric vehicle charging stations.
For more information and resources, including news, training materials, example projects, and more, click on the links on the left side of this page. After looking through the information provided in these pages, if you decide you would like to pursue funding from the Trust, click on the "
Request Assistance
" link to send an email to ITEP's VW Settlement Technical Assistance team. We will get back to you to answer any questions you may have, and guide you through the process of becoming a beneficiary of the Trust and applying for funds.
---