Virgil Masayesva Memorial:

PO Box 15004, Flagstaff, AZ 86011-5004
Phone: (928) 523-9555
Fax: (928) 523-1266
itep@nau.edu
Virgil Masayesva Memorial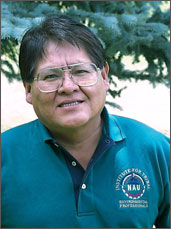 On March 16, 2005, Indian Country lost an extraordinary leader, Virgil Masayesva.

Virgil was the co-founder and director of the Institute for Tribal Environmental Professionals (ITEP) at Northern Arizona University in Flagstaff, Arizona. As a director, Virgil directed and managed ITEP's tribal environmental training programs and was instrumental in establishing ITEP's air quality programs including the American Indian Air Quality Training Program and the Tribal Air Monitoring Support Center and many other programs dedicated to the protection and preservation of tribal resources and tribal environmental management.

Tribes throughout the country have benefited from the environmental trainings, professional assistances, and conferences that ITEP provides. Through Virgil's work and commitment in providing trainings, he has changed the direction of tribal resources and the development of environmental management in Indian country forever.


Virgil Masayesva Tribal Air Programs Excellence Award:
Virgil Masayesva was the Director of the Institute for Tribal Environmental Professionals at Northern Arizona University from it's inception until his passing in 2005. Virgil is commemorated for his leadership, dedication, innovation and commitment to the support of tribal air programs; their creation, development, advancement and ultimate success in promoting tribal sovereignty, tribal culture and tribal environmental protection. This award was developed to recognize and perpetuate continuing contributions to that legacy.
Nominations are now CLOSED for the Virgil Masayesva Tribal Air Programs Excellence Award!

For more information contact: Darlene Santos at Darlene.Santos@nau.edu.
Scholarship information:
Virgil Masayesva Scholarship information brochure [pdf]
Virgil Masayesva Scholarship recipients


---
For more information please contact:
ITEP General Information
928/523-9555
itep@nau.edu
---