About Us:

PO Box 15004, Flagstaff, AZ 86011-5004
Phone: (928) 523-9555
Fax: (928) 523-1266
itep@nau.edu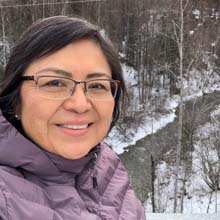 Elaine Wilson
Project Manager
Elaine Wilson, CPM*
Elaine H. Wilson (Diné) is an enrolled member of the Navajo Nation and works with the National Tribal Water Council (NTWC), a technical and scientific body established to advocate for the best interests of federally-recognized Indian and Alaska Native Tribes in matters pertaining to water.

She previously worked with the National Tribal Air Association (NTAA), an association of 128 (and growing) Member Tribes in the U.S. NTAA has been and is a leading voice for Tribal air quality issues, programs, and policies since 2002.

Prior to her employment with ITEP, Elaine worked for the Inter Tribal Council of Arizona, Inc. (ITCA) for over 25 years and served as the Environmental Quality Programs (EQP) Director from January 2004 to June 2015. She was responsible for managing and directing programs, projects and training activities, including oversight of technical assistance, research, program development, implementation, and information collection for ITCA Member Tribes. As the EQP Director, Elaine supervised program coordinators, environmental specialists and consultants.

ITCA EQP operated and implemented programs designed to build the capacity of Tribes in the following areas: drinking water systems, solid waste, air quality (ambient & indoor air), pesticide safety & compliance, groundwater protection, underground storage tanks, and emergency preparedness. Two of the programs serve Tribes nationwide.

Elaine received her Bachelor of Science Degree from Arizona State University (ASU) and completed an inaugural Tribal Certified Public Manager (CPM*) Program at ASU, and received certification in June of 2010. She enjoys spending time with her family and friends, reading, cooking, camping, fishing and enjoying the great outdoors.

Elaine can be reached by e-mail at Elaine.Wilson@nau.edu.
About Us
>
Team Members
>
Elaine Wilson
---