About Us:

PO Box 15004, Flagstaff, AZ 86011-5004
Fax: (928) 523-1266
itep@nau.edu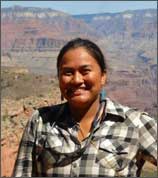 Nikki Cooley
Co-Director
Nikki Cooley
Nikki is the co-manager for ITEP's Tribal Climate Change Program. She is of the Diné Nation by way of Shonto and Blue Gap, AZ, and is of the Towering House Clan, born for the Reed People Clan, maternal grandfathers are of the Water that Flows Together Clan, and paternal grandfathers are of the Manygoats Clan. Nikki received her Bachelors and Masters of Forestry from Northern Arizona University (NAU) with a few years of post-graduate study at Michigan State University. For her undergraduate and Masters studies, she has worked extensively with the Cherokee Tribe of North Carolina, and has worked with various tribes including the Kaibab Paiute tribe. Prior to ITEP, Nikki has worked with the Merriam Powell Center for Environmental Research on a Climate Change Education Program, and at NAU Talent Search working with underrepresented, low-income, potential first generation college students at 10 middle and high schools in Northern Arizona.

In addition, as a river guide and cultural interpreter working on the Colorado River-Grand Canyon and San Juan River, Nikki is the co-founder of the Native American River Guide Training Program and Fifth World Discoveries, was the first Native American President and Vice-President of the Grand Canyon River Guides Association (GCRG), and is a former associate director of the Native Voices Program. She is very passionate about advocating for and education about the protection and preservation of the environment and its resources. Nikki thoroughly enjoys gardening, her Navajo language and culture, and spending time with her large extended family in the southwest and Iowa.

Nikki can be reached by e-mail at Nikki.Cooley@nau.edu.
About Us
>
Team Members
>
Nikki Cooley
---