National Tribal Forum on Air Quality (NTF)
The NTF provides environmental professionals from tribes, EPA, and other organizations an opportunity to meet and discuss current policies, regulatory initiatives, and technical topics in air quality. The NTF is a cooperative endeavor co-sponsored by The Institute for Tribal Environmental Professionals (ITEP) and the National Tribal Air Association (NTAA), made possible by funding from US EPA and our generous sponsors.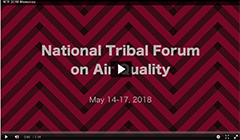 Click the video or button below to watch highlights from the 2018 NTF in Carlton, Minnesota:
Watch Video!